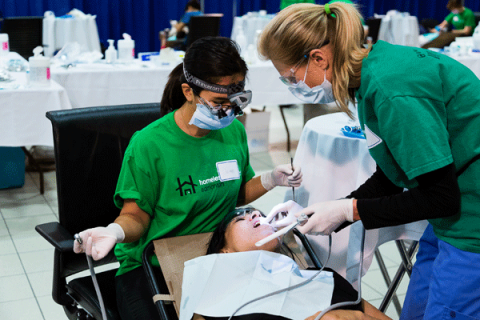 The homeless and vulnerably housed can use all the help they can get. So the opportunity to tap into multiple social services such as housing support, career counselling, library access and legal aid plus haircuts and vision and dental screening for free in one place in one day is something of a small miracle.
That's exactly what is set happen Sunday, April 13 when a gentle army of 200 service providers representing some 50 different services step up alongside 150 volunteers to assist roughly 500 to 700 of Toronto's homeless and at-risk population at Harbourfront Community Centre. For free.
The inaugural Homeless Connect Toronto event, organized by a new non-profit of the same name is "a one-stop-shop for supports and services for individuals [who are] at-risk or experiencing homelessness," according to the HCT website.
"It is collaborative effort of social service agencies, business organizations, and volunteers in our community to bring together under one roof essential supports and services. Service providers will deliver as many of their services as they can on-site, minimizing the need for referral or follow-up."
Modeled after San Francisco's Project Homeless Connect which launched in 1998 and has since been recreated independently in 200 cities across North America, Homeless Connect Toronto is a hands-across-the-water event uniting everything from Toronto Public Library to Oasis Addiction Reduction Society, Planned Parenthood Toronto, Canadian Mental Health Association, Daily Bread Food Bank and Toronto Public Health.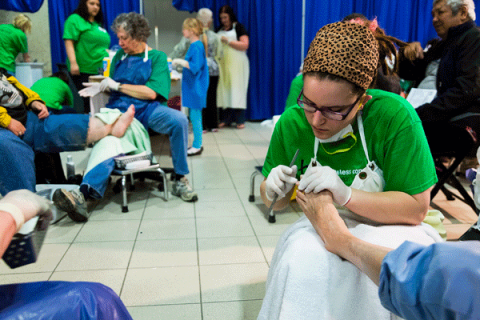 Given that in excess of 5,000 people in Toronto are classified as homeless, according to the most recent Street Needs Assessment survey conducted in April 2013, assisting 500 to 700 individuals over just one day may seem like a drop in the bucket. But as HCT coordinator Melody Li tells Samaritanmag from her Toronto office, it's a solid start.
"We are trying to meet the needs of those who are unconnected, so we have our fair share of housing-related services. But we also want to serve those who may be housed but are at risk of becoming homeless," says Li, who has been steering HCT since the planning stages in 2011.
"We want to be able to connect them with other agencies that might be able to support them either in maintaining a home or continuing on with things that are related to lifestyle, so library cards, health care. With things like haircuts, we are looking at offering about 100. Not all of our services can serve everyone, but our plan is that our guests will cherry-pick the services they need most.
"When they arrive, they will be asked to pick four of their top services. Guests are not limited to four services but we want them to feel they accomplished the top four things on their list when they leave. Plus we don't want our guests to walk in and be overwhelmed."
Li acknowledges that one of the key challenges about the Homeless Connect Toronto event is spreading the word among a transient population. While free shuttles will be operating between Harbourfront Community Centre and 10 drop-in and community centres, hostels and meeting locations citywide throughout the day, raising awareness of the event has been imperative.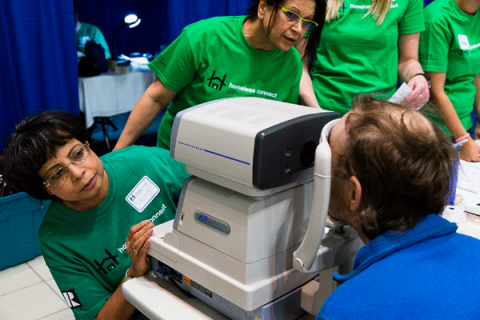 "This is where collaboration and connection with other agencies really comes into play," Li says. "Service providers currently dealing with homeless and at-risk individuals are spreading the word. We have partnerships with the City of Toronto and their shelter services, so a lot of communication is going out from hostel services. Also the Toronto Drop-in Network, which is a comprehensive network of about 50 community agencies that run weekly drop-in centres, are spreading the word.
"It's hard to know if we'll get the numbers we're expecting. But based on the needs of the city — knowing there are about 5,000 individuals who are either in a shelter or sleeping rough on a daily basis — a number like 500 seems quite small. I have visited a few drop-ins to hand out posters recently and it seems that are doing a great job in spreading the word. So I feel confident that numbers will show up that day."
In addition to the above-mentioned services, Homeless Connect Toronto will also be offering its guests tax assistance, immigrant services, resume building, foot care and — notably — dental screening. "That's always a big one," Li confirms.
"Unfortunately for this event we only able to offer dental screenings (Toronto Public Health will be making quick checks for tooth and gum health and referring patients out to other community agencies for further treatment). But we hope in the future to be able to offer more comprehensive dental care such as cleanings."
Li says that so far, NIMBY-ism hasn't surfaced as an obstacle. Going forward – and more HCT events will doubtless be in the offing, possibly happening twice annually in spring and fall – a larger venue may allow HCT to accommodate more service providers.
To the question "What will April 13, 2014 look like?" the HCT website makes it clear.
"When the doors open, guests are greeted and welcomed into a registration area at Harbourfront Community Centre.  Volunteers (who Li says have undergone sensitivity training to enhance their deportment towards guests) help guests identify the services in which they are most interested and guide guests to the service or information directly on site. Guests can also choose to be accompanied by a guide, who helps to answer any questions or to find specific services."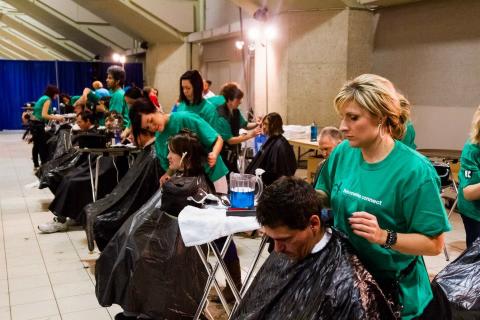 Asked how Homeless Connect Toronto will measure success at the end of Sunday — numbers served? Smiles on the faces of departing guests? Media coverage? — Li says it's all of that and more.
"We are asking all our guests for feedback as they leave so we can improve going forward. We'll be conducting exit surveys and providing guests with comfort kits (containing personal care items such as toiletries; guests are also provided with free lunch).
"We are asking our volunteers and service providers for feedback as well. This event also allows various service providers to network with each other and to find out basically what another agency is offering. The agencies we've been dealing with are excited to be in this space with a different type of service than they normally encounter but one that their clients also need access to as well. In that way, we hope the collaboration can continue outside of this event.
"In Toronto we have a lot of agencies working in poverty and homelessness, so we are privileged in that way," Li says. "But I think the reason it's taken so long to bring [this kind of one-day event] here is because Toronto is so stretched. We are all very good at working in our niches, so that's one reason it took a while to bring this all together."
Girls Air Jordan