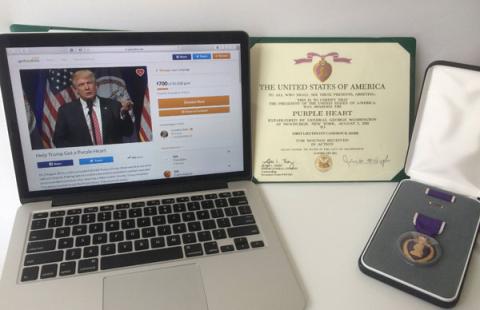 A satirical fundraising effort to get U.S. presidential nominee Donald Trump his own Purple Heart reached its goal of generating $65,000 U.S. ($84,685 CDN) to help Syrian refugees.
The "Help Trump Get a Purple Heart" campaign was started on crowdfunding site GoFundMe on Aug. 2 by retired army Lt. Cameron Kerr, an actual Purple Heart recipient who lost his lower left leg when he stepped on a buried IED while on tour in Afghanistan.
The GoFundMe page shows 2,690 people contributed $66,050 U.S. in 15 days.
When Trump was handed a Purple Heart (a United States military decoration awarded to those wounded or killed while serving) at an event on Aug. 2, he was quoted as saying, "I've always wanted to get the Purple Heart. This was much easier."
While "Help Trump Get a Purple Heart" is the title on the funding page, and its faux goal is to "chip in to fly him to the conflict zone of his choosing" in order for Trump to get injured and genuinely earn a Purple Heart, it's really a swerve.
Wrote Kerr on the site, "…ok, let's be serious. Super serious. We're not going to be able to help Donald realize his conveniently retroactive military fantasies, and based on precedent he could likely get a series of deferments to avoid going even if we tried. So instead, we're going to convert his toxic bigotry, ignorance, and callousness into something positive."
Instead, Kerr is directing the funds raised to be split evenly between three organizations helping Syrian refugees, the International Rescue Committee, a screening organization that helps refugees move to the U.S., Syrian American Medical Society, an organization of Syrian medical professionals who provide medical services to in-need Syrians, and Refugees Welcome International, a Canadian and European organization that helps facilitate private refugee sponsorships.
Commenters on the GoFundMe page are particularly supportive of the campaign.
"As a mother of a wounded Marine on his second tour in Helmand Province Afghanistan....thank you for your service.... and for your creation of this worthwhile effort," wrote Terri O'Neill.
Commenter Lynda Anderson agreed, "I donated because I loved this idea as an antidote to vile nature of Trump and because it will support Syrian refugees."
"I donated for two reasons -- to help you make the point that his statement about getting the purple heart 'the easy way' was one of his most reprehensible ever (and that's saying a lot). My second reason is to help the Syrian refugees, which not only is a noble cause, but one that Drumpf is totally against. Thank you for doing this!" added Theresa DeWitt Turner.
Trump was able to defer being drafted for military service in the Vietnam War in the late-1960s on five separate occasions, four because of education deferments and once because he had been diagnosed with heel spurs and was deemed unfit for service.
Gifts for Runners