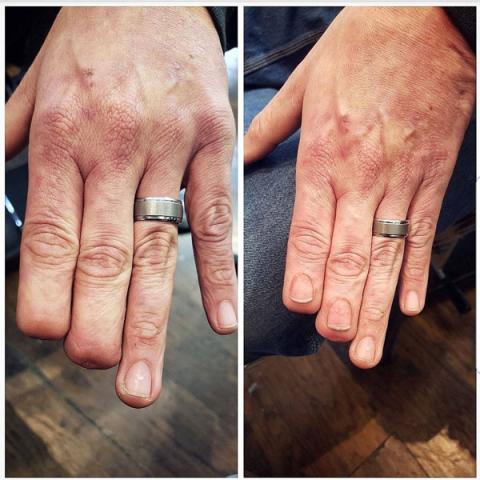 A St. Louis, IL area tattooist's rendering of two realistic looking fingernails will soon mean cancer survivors and amputees will be able to experience his cosmetic services for free.
On Jan. 15, Eternal Ink's Eric Catalano tattooed the two fingernails on to the shortened ring and middle fingers of Mark Bertram. Bertram, who had lost the tips of those two fingers when they got caught in an air conditioner belt last year, was hoping the nail tattoos would make his two nubbed fingers look more natural post-amputation.
They did.
And once photos of Catalano's work hit the internet they went viral, with his shop being inundated with requests for his services.
Catalano, who also provides services tattooing areolas and nipples on to breast cancer survivors, refuses to charge these customers for these services. With requests for his services skyrocketing, Catalano has decided to launch a GoFundMe page to help offset the costs of providing these tattoos to recipients.
Launched on Jan. 16, the "Hyper-realistic Tattooing Services for Survivors" page has a stated goal to collect $50,000 USD ($66,500 CAD) to fund these tattoos. As of Jan. 21 130 people have donated $4,187 USD ($5,568 CAD) to the fund.
Catalano explained in detail why he was setting up the "angel" fund.
"So I've been offering free tattoo services to survivors of amputation and cancer to make them feel whole again," he wrote on the GoFundMe page. "I feel terrible charging the people who have already suffered pain and injury or battling life and death. They've already been through so much. And I just flat out refuse to make them pay to receive my services I cannot do it.
"But, here lately the vast amount of people needing my free services is expanding by the day. I'm now stuck in a new controversial internal battle, which is ignoring massive amounts of message from others who need my help because I still have to work and support my family. After lots and lots of pushing and pushing by people basically demanding me to get a funding site set up, I'm doing it. What this will allow is 'angel' donations to pay me, for sufferers to receive their free tattoo work. Allowing me to help more and more people while still being able to support myself. If you can throw a little money at it, I can promise you're helping one more person get in the door."
According to an updated posted to the funding page on Jan. 19, Catalano will be able to continue providing helping these cancer and injury survivors.
"Because of your generous donations I am able to begin funneling requests from hundreds of people needing my services while still maintaining my livelihood and while still not needing to charge any of the people needing my services," he wrote. "And for that I am eternally thankful to all of you ! I will continue to update all of you Angels."
Nike