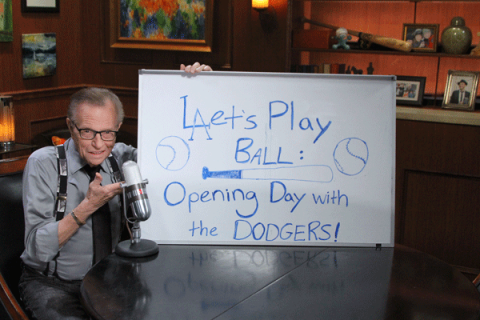 Who wants to hang with Larry King? At a Los Angeles Dodgers game, no less? And for the opening day of baseball season?  Watching the game with the 80-year-old TV and radio legend, that is something to cross off your bucket list. Well, it is a long shot, of course, a contest King has devised to raise money for his Larry King Cardiac Foundation. And if you don't win, at least you helped people trying.
"For just a small donation, everyone can play to win and save hearts in the process. Helping someone else live a longer healthier life is always a home run" said King in a press statement, issued by Conscience Entertainment Group (CEG) which "helps charitable causes generate awareness and leverage fundraising solutions through social commerce and communication strategies." The contest ends March 27 at 11:59 p.m. PST.
There are other guaranteed goodies you can get depending on the donation. It's just the grand slam is winning the opportunity to fly out to Los Angeles to join King at Dodger Stadium for opening day April 4 to watch the Dodgers vs. the San Francisco Giants. You'll get some great seats and he will spend time with you — and a guest — before and during the game.  And if baseball isn't your thing, then you can choose to have breakfast with King at his Beverly Hills restaurant, The Original Brooklyn Water Bagel Co., or dinner with King and his wife, Shawn, at one of their fave spots, Craig's.
Any donation amount will immediately enter your name into the draw, which includes flight from anywhere in the world and two nights hotel, but you can also choose select amounts which comes with thank you gifts:  $50 gets you an exclusive campaign t-shirts; $150 a signed photograph; $300 a personally handwritten thank you card from King; $500 an autographed pair of suspenders; $1000 a personalized voicemail from King; and for a donation of more you get the whole shebang.
"I underwent a successful quintuple bypass heart surgery in 1987, after almost a year suffering from cardiovascular disease," King explains on the "celebrity digital fundraising" site Prizeo. "I realized that I was fortunate enough to have my bills covered by my insurance — and that many people do not have that luxury. So The Larry King Cardiac Foundation was established in 1988 to help facilitate life-saving treatment for individuals who, due to limited means or no insurance, would otherwise be unable to receive care.
"LKCF is now saving hearts in many ways. We educate and empower people of all ages and backgrounds by celebrating successful steps that make our hearts healthier in every sense -- from nutrition and positive play to stress reduction and community engagement.  We do this by growing the everyday actions and big ideas that address the root causes of heart disease, as well as through assisting uninsured individuals in need of cardiac care.  Funding comes from the proceeds of my books, speaking engagements and from entertainment galas."
Nike