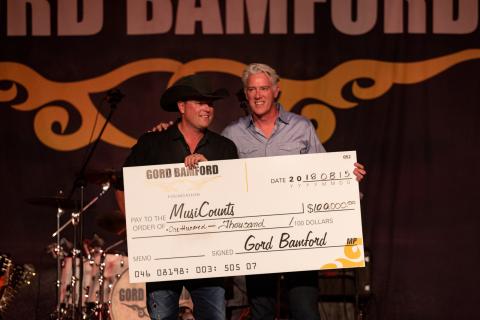 Canadian country musician Gord Bamford raised close to a half-a-million dollars at the latest edition of his Charity Golf Classic. Now in its 11th year, the final tally for the two-day event, Aug. 15-16, was $469,720, thanks to a group of his music industry pals and an array of sports legends. Funds raised through the Gord Bamford Charitable Foundation will be distributed to 10 "youth-centred" charitable organizations.
The  24-time CCMA Award winner, who has charted 23 top 10 singles in Canada, presented giant cheques at the event, which was held at the Lacombe Golf and Country Club in the singer's hometown of Lacombe, Alberta.
"This event is a testament to the way Albertans pull together to support their communities," said Bamford in a press statement.  "It's been 11 years of building tremendous friendships with sponsors, attendees, and the great people that operate these important charities. It's a real pleasure to be able to support such a long list of worthy recipients."
They include MusiCounts, Big Brothers & Big Sisters of Lacombe & District, The Make-A-Wish Foundation, The Sutter Fund, The Hockey Alberta Foundation, The Central Alberta Child Advocacy Centre, Canadian Tire Jumpstart Charities, The Gary W. Harris Canada Games Centre at Red Deer College, Blackfalds Wranglers Junior B Hockey Team, and the Robbie Dean Family Counselling Centre in Pembroke, Ontario.
Bamford attributes the success of the annual event to "country music's strong sense of community, a solid organizing committee and enthusiastic group of volunteers," it said in the release.
As well as the golf tournament, there was a dinner, concert and auction on the evening of Aug. 15. Participating artists included Bamford himself, as well as Aaron Pritchett, Dallas Smith, Chad Brownlee, Tebey, Beverly Mahood, as well as a Nashville songwriters' circle featuring Buddy Owens, Galen Griffin, Brett Jones and Brice Long, hosted by another Alberta country star Duane Steele.
For the tournament itself the following day, participants could bid to have a sports star play on their golf team. Many current and former NHL-ers, including Mark Recchi, Theo Fleury, Marty McSorley, Curtis Glencross, Kris Russell, Craig Simpson and Rob Brown, were joined by Olympians Brad Gushue and Melissa Hollingsworth on the links.
Two larger prizes dominated the auction bidding. Celebrity Chef Corbin Tomaszeski initially offered an in-home dinner for eight, but because bidding was so fierce, he ended up offering three dinners. As well, a pair of trips for two to Pittsburgh were won by two bidders at $35,000 per trip. The winners will watch two NHL games, spend a session on the ice at the Pittsburgh Penguins practice facility, hosted by current Penguins assistant coach Recchi and Bamford.
Bamford began his eponymous foundation with the proceeds from his first golf tournament in 2008, when he recognized there was a great need in his home region for services and support systems for youth.
According to the foundation's website, "the goal of the Foundation is to be able to leverage Gord's name and brand in order to raise funds that can then be dispersed back to youth. It is important for Gord that any funds raised through the support of fans, friends and corporate partners be initially donated in the area they were collected and then spread throughout the region." The landing page says "supporting kids and communities across Canada."
(Please support Samaritanmag's original journalism by making a PayPal contribution to info@samaritanmag.com so we can increase the amount of content and writers we hire. Samaritanmag is the anti-tabloid, covering good people trying to change bad things)
2020 Frame Skate x Nike SB Dunk Low "Habibi" Chile Red/White-Lucky Green-Black CT2550-600 – With Sneaker