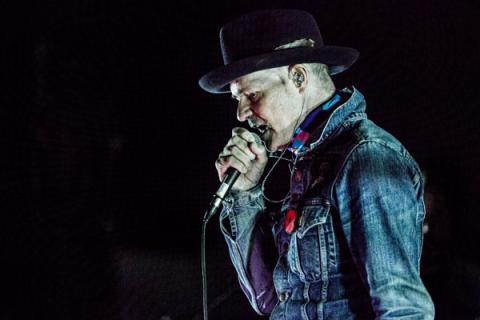 Late Tragically Hip frontman Gord Downie's dream of Indigenous reconciliation is off to a strong start if a newly released report is any indication.
Reconciliation — a social mission to establish a mutually respectful relationship between Aboriginal and non-Aboriginal peoples in Canada — was a key cause Downie took up before his death due to brain cancer in 2017 at age 53. Downie established The Gord Downie & Chanie Wenjack Fund (DWF)and released his solo album, graphic novel and animated film Secret Path in October 2016. The singer was inspired by the story of Chanie Wenjack, a 12-year-old boy who died while running away from the Cecilia Jeffrey Indian Residential School near Kenora, Ontario in 1966.
The DWF aims to "build cultural understanding and create a path toward reconciliation between Indigenous and non-Indigenous peoples" and improve the lives of Indigenous people by building awareness, education, and connections between all Canadians. Money raised by the fund in recent years has be guided by the National Centre for Truth and Reconciliation.
The release of the DWF's first-annual report is now shedding light on the organization's efforts.
According to the DWF, 33 per cent of non-Indigenous Canadians have little or no awareness of the residential school system — a system operated from the 1880s into the closing decades of the 20th century which forcibly separated Indigenous children from their families in schools which forbade them to acknowledge their heritage and culture or to speak their own languages. Forty-eight per cent of adults age 18-29 have no awareness of the residential school system.
As of March 31, 2019 the DWF has done the following:
* Supported the creation of 24 Legacy Spaces — Designated physical spaces that provide accurate information about Indigenous history and reconciliation — across Canada.
* Supported the Legacy Schools initiative — Providing toolkits and educational support and resources to 561 schools and communities throughout Canada to help teach reconciliation. DWF estimate they've reached 176,000 students and their goal is to reach 1.5 million students by the year 2020.
* Supported a free awareness-building event at Yonge-Dundas Square in Toronto which had an estimated 12,000 in attendance.
* Established Secret Path Week — With Downie's death happening on Oct. 17, 2017 and Wenjack's on Oct. 23, 1966, the DWF established a week-long series of support events between Oct. 17 - 24, 2018.
The fund, which has proven to be incredibly popular amongst Downie supporters and music fans, listed its cash assets from last year at $5,611,536.
A Secret Path "re-creation" concert has been announced for Oct. 19 at Roy Thompson Hall in Toronto. The show, which will feature dancers, the original band from Downie's "Secret Path" shows and surprise guests, will "create a fully immersive and cultural experience that celebrates Indigenous history and commemorates the lives of Gord and Chanie."
Watch Gord Downie's Secret Path
AIR MAX PLUS