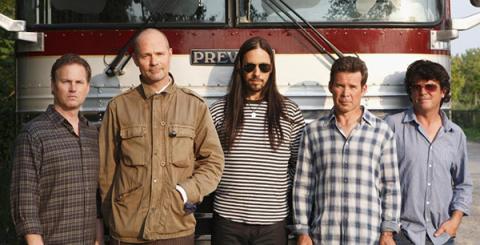 More than a half-a-million dollars has poured into Toronto's Sunnybrook Health Sciences Centre for the Gord Downie Fund for Brain Cancer Research, since The Tragically Hip singer's diagnosis with gioblastoma was made public in late May.
Sunnybrook announced the figure in a press release.
Tragically Hip wrapped up its 15-date national tour — a portion of those proceeds will also go to the Fund but no amount has been disclosed yet — with a televised and streamed concert from their hometown in Kingston, Ontario, that CBC said was viewed by more than 11.7 million people around the world, not including public and private viewing parties.
"At Sunnybrook, we have heard from Canadians across the country, in the United States and around the world who organized events to watch the show and collect donations for Sunnybrook's brain cancer research," the press release states
"In addition, we have heard from several corporations who have expressed their interest in supporting the fund."
The figure raised to date — and counting — is  $500,600 through the direct link on the Sunnybrook web site and third-party events.
"Donations to the Gord Downie Fund for Brain Cancer Research will give Sunnybrook the tools to help beat brain cancers that are currently unbeatable," it states on the direct page. "Right now we're investigating new drugs, surgical techniques and genetic therapies. We're using ultrasound to help drugs reach tumours that couldn't be reached before. Your support will help us conduct ground-breaking research that benefits patients not only at Sunnybrook, but across Canada and around the world."
Air Jordan 1