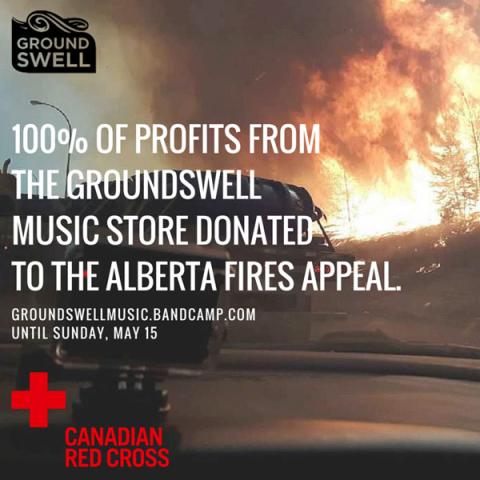 Buying music made by a number of East Coast bands will now help those displaced by the devastating wildfires raging in and around the city of Fort McMurray, Alberta.
GroundSwell Music, a Halifax, Nova Scotia-based record label and management company, is donating 100 per cent of the profits from their online store between now and May 15 to the Canadian Red Cross' Alberta Fires Appeal. Some of the acts involved in the label promotion include The Stanfields, The Town Heroes, Carleton Stone, Like a Motorcycle, The Mike Bochoff Band and Rawlins Cross.
"In solidarity with the people of Ft McMurray, Alberta, from now until Sunday May 15th, 100% of the proceeds of ANY album/single purchase from ANY artist in the GroundSwell Music store will be donated to the Canadian Red Cross' Alberta Fires Appeal to support continuing aid efforts," said a message posted on the GroundSwell Facebook page. "Please accept our humble offering and do what you can to help."
Donations to the Canadian Red Cross Alberta Fire Appeal provide relief for those affected in the form of emergency food, clothing, shelter, personal services, and other necessities to help assist with recovery and resiliency.
While it may seem strange for an East Coast record label to be so involved in a Western Canadian crisis, a substantial number of easterners work in and around Fort McMurray in the local oil industry. In a press release from GroundSwell the label stated that every act on the roster had at least one friend or family member personally affected by the fires currently raging through the Fort McMurray area.
As of today wildfires in the area around Fort McMurray currently cover 161,000 hectares. The city of 61,000 is currently on a mandatory evacuation order with the Canadian military having been called in to help escort citizens out of the danger zone. So far at least 1,600 homes in the city have been demolished in the flames and fire officials say that at this point the blaze is so big there's no way they'll be able to stop it until it rains locally. Early estimates suggest the fires have caused $9 billion of damage in the Fort McMurray area, which would rank as the most expensive natural disaster in Canadian history.
More than 500 firefighters from across Alberta, parts of Canada, and even internationally, have been fighting the blaze non-stop since May 1.
The GroundSwell folks aren't the only East Coast musicians helping out. Rock musician Joel Plaskett recently donated all the merch sales from his Moncton concert to the Red Cross. Numerous other citizens and companies are rushing to help out the displaced as well. The Toronto Blue Jays are currently hosting a fundraising auction of game-worn items, and companies like TD Bank and Aeroplan are lending support as well.
First Look: Nike Air Max 270 "Pre-Day"