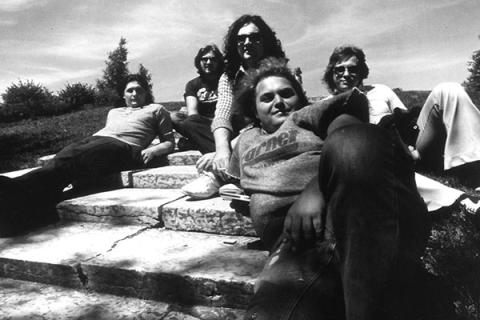 The Guess Who's 1970 protest song "Hand Me Down World" has been inducted into the Canadian Songwriters Hall of Fame (CSHF), by the Society of Composers, Authors and Music Publishers of Canada (SOCAN), the performing rights organization which purchased it in 2011. Right now it's a virtual induction, a song added to a list online, as determined by the CSHF induction committees and approval by the board of directors.
The song, which was featured on The Guess Who's album, Share The Land, was written by the band's late guitarist Kurt Winter and produced by Jack Richardson. At the time Winter was one of two new guitarists to join the band, replacing Randy Bachman, who had left the band because of health and personal reasons. Burton Cummings sings it.
Released immediately after the band's breakout single "American Woman," "Hand Me Down World" peaked at No. 10 on the RPM Canada chart and No. 17 on the Billboard Hot 100 U.S. chart.
"'Hand Me Down World' was a protest song in an age when there was much to protest about: damage to the environment, the Vietnam war, and restrictive social mores. Winter's lyrics, still relevant decades later, embody the perennial frustrations of socially-conscious youth objecting to the complacency of the middle-aged who have turned a blind eye to society's problems," the CSHF press release states.
The song's chorus paints a picture of restless youth not satisfied with the current state of things. It goes:
Don't give me no hand me down shoes
Don't give me no hand me down love
Don't give me no hand me down world
I got one already
With its theme of not wanting to inherit a broken down world, "Hand Me Down World" managed to both strike a chord with a protest movement that was increasingly environmentally aware and pro-peace, and yet be discreet enough that the band were still able to play the song in front of high-profile world leaders. The band actually played the song at musical gala in July 1970 that was attended by President Richard Nixon and Prince Charles. "The song had the distinction of being one of the few rock protest songs ever played at the American White House," according to the CSHF release.
The CSHF honours and celebrates Canadian songwriters in both english and french languages and works to educate the public about these songs.
Saskatoon retro rockers The Sheepdogs recorded a cover tribute of "Hand Me Down World" for the CSHF's Covered Classics series.
"It was truly a pleasure to cover this timeless classic from Canada's greatest ever rock band, the Guess Who," said singer Ewan Currie of The Sheepdogs, in a statement. "'Hand Me Down World' still rings every bit as true in 2017 as it did when Burton was belting it out back in 1970."
Watch The Guess Who's Burton Cummings perform "Hand Me Down World":
Nike SF-AF1