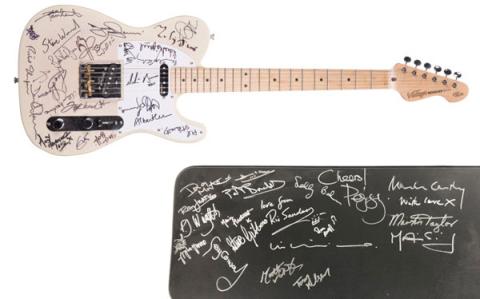 Many of classic rock's biggest names including Sir Paul McCartney, members of Led Zeppelin, The Who's Pete Townshend, Black Sabbath's Tony Iommi and The Beach Boys' Brian Wilson have come together to support respected guitarist Jerry Donahue.
The rockers have teamed up to autograph a JHS Vintage Reissued Series V58JD Jerry Donahue signature electric guitar with the hopes that the instrument will raise at least £10,000 ($17,167 CAD) at an auction for Donahue taking place Dec. 11 in Wiltshire, U.K.
Donahue, 73, was a guitarist for folk-rock band Fairport Convention as well as in groups Fotheringay and The Hellecasters. He suffered a stroke in 2016 which has left him without the use of the right side of his body as well as speech and mobility issues. He has been unable to play guitar.
"On 29th July 2016, Jerry suffered a severe stroke, tragically rendering a diagnosis that he may never be able to play the guitar again," says a message on the Gardiner Houlgate auction website. "The sale of this guitar is to assist funding for Jerry's rehabilitation with an aim to bring him as far back to his normal self as possible. Kindly donated by JHS VIntage Guitars, the V58JD guitar has been autographed by some of the greatest and iconic musicians known to our generation, all of whom were delighted to rally round to help the cause."
The names who've signed on the guitar include McCartney, Townshend, Iommi and Wilson as well as Robert Plant, Jimmy Page, John Paul Jones, Mark Knopfler, David Gilmour, Eric Clapton, Jeff Beck, Albert Lee, Jeff Lynne, Al Jardine, Blondie Chaplin, Steve Winwood, Dave Pegg, Richard Thompson, Joe Brown, Andy Fairweather-Lowe, Martin Barre, Al Stewart and Ralph McTell.
The hard travel case is also adorned with a number of signatures from friends and past fellow band members.
Born in New York and raised in Los Angeles, Donahue moved to England at age 16 and immersed himself in the British folk rock scene. In 1972 he replaced Richard Thompson in the Fairport Convention and has toured or recorded with the likes of Elton John, The Proclaimers, Warren Zevon, Bonnie Raitt, Roy Orbison, Nanci Griffith, The Yardbirds and many more.
The guitar auction isn't the only support effort on Donahue's behalf. The Sweet Relief Musician Fund has also set up a donation page for Donahue.
Watch Jerry Donahue give a guitar lesson
Air Max