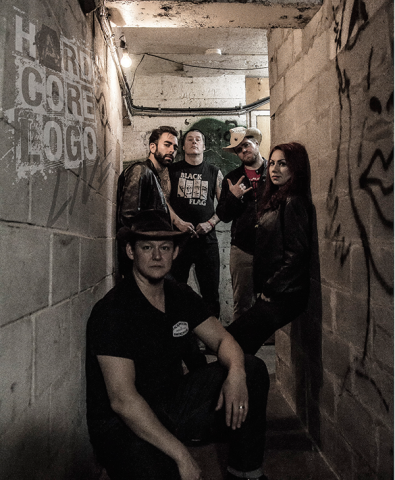 The stage production of Michael Turner's book Hard Core Logo, which was made into the 1996 classic Canadian film by screenwriter Noel S. Baker and director Bruce McDonald, has been mounted as a musical by BFL Theatre company in Toronto at The Cave (until March 26) at Lee's Palace, and all proceeds go to the Centre for Addiction and Mental Health (CAMH).
Featuring original music by DOA's Joe "Shithead" Keithley and lyrics by Turner, Hard Core Logo: Live — adapted for the stage by Michael Scholar Jr. and originally launched in 2010 in Edmonton — follows the story of fictional punk rock band Hard Core Logo, which embark on a reunion tour to raise money for a punk legend who was shot.  Tickets are $36 (plus service fee).
There is a CAMH table onsite every night with volunteers taking donations, monthly sponsorships, answering questions and providing information about the various mental health programs offered at the teaching hospital and research centre.
One of the characters in the story is an alcoholic, another schizophrenic.
"Since I've started doing this show, I thought that we should do something because it does touch on all of these things and as a touring musician, I know guys deal with this all the time — they deal with anxiety, depression, addiction problems and it just gets overlooked," co-producer and musical director Jeremy Knowles tells Samaritanmag.
"Coming off tour, regular people who don't tour don't understand what you're going through and how to cope and there's a lot of empty space. I, personally, have some family history of alcoholism, depression, and anxiety and I thought, 'We can't do this [show] without talking about it. It's so important and it's getting swept under the rug a lot of the time.'"
In the Hard Core Logo: Live program, it states that BFL Theatre partnered with 145 Solutions (which pairs artists with non-profits) and will donate the proceeds from this production to support mental health rehabilitation and awareness programs.
The small cast — Al Nolan as Joe Dick; Andrew Fleming as Billy Tallent; Michael Dufays as John Oxenberger; Thomas Scott as Pipefitter; Jennifer Walls as "everyone else" and Tim Lindsay as the roadie/soundman — will get paid, says Knowles, but BFL Theatre kept its overhead low. "We believe in paying artists, but we want to make sure that there's enough in the pot leftover to donate. BFI Theatre is not for profit."
He's hoping most people will decide to sign up for a monthly contribution to CAMH "because that keeps it in people's purview and awareness."
Each night of the production cast member Walls comes out onstage to address the audience to remind them of the underlying issues in the storyline,  and why CAMH has been selected as the charity.
"It's a cause that's very important to me, personally, and I know other members of the company as well," she said on opening night. "We have a lovely rep from CAMH tonight and I really suggest you have a chat with her and see what kind of services they offer. They do really great work."
Air Jordan 11 25th Anniversary Black Silver Eyelets CT8012-011 2020 Release Date