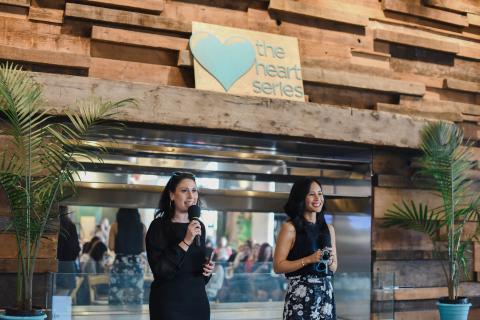 As social entrepreneurs as a trend take a business-like approach to solving the world's problems, the annual Heart Series conference in Los Angeles on Feb. 14-15 is set to talk doing good for profit via talks, workshops, and networking.
Named to reflect the conference being held around Valentine's Day, the two-day event, co-founded by Gail Cayetano and Meg Sette, will see social influencers meet and trade stories on how to tackle social issues through purpose-driven businesses, with an eye to making the world a better place.
Brad Haugen, the founding chairman of Pencils of Promise, a non-profit that has built more than 400 schools around the world, and president of ATTN, a story-driven media company that creates and distributes social cause content on social media platforms, especially Facebook, will deliver a state of the industry keynote address on Feb. 14.
Other hot topics to be tackled at the Heart Series conference will include how to brand socially conscious companies, putting collaboration before competition in business, and using mother nature "to improve your work flow." 
Doing good through job creation in the social impact space will also get a spotlight when Shannon Keith, founder and CEO of Sudara, an online woman's loungewear brand that employs formerly sex trafficked women, including from India, addresses conference.
Elsewhere, socially-responsible retailing has its moment when a fireside chat features Morgan Bogle and Nikki Reed, co-founders of Bayou With Love, which partnered with Dell, the computer maker, to make jewelry out of e-waste.
Another speaker is Sarah Naseer of Feed, who helps feed the world's hungry by selling handbags, having provided more than 103 million meals  to children in 63 countries around the world, including here in America, according to stats on its web site.
The Heart Series will also see appearances by heads of social impact from companies such as shoe, eyewear and apparel brand TOMS, the first to coin a "buy one, give one" philanthropic model, and Participant Media, dedicated to entertainment that inspires and compels social change. 
The conference for companies with a conscious, which was launched in 2015, will take place at ROW DTLA, in Los Angeles' Arts District and costs $799 USD for the two-day event. There are free events on Feb. 13.
(Please support Samaritanmag's original journalism by making a PayPal contribution or EMT transfer using  info@samaritanmag.com so we can increase the amount of content and writers we hire. Samaritanmag is the anti-tabloid, covering good people trying to change bad things. Let's make this thing bigger than TMZ.)
Nike