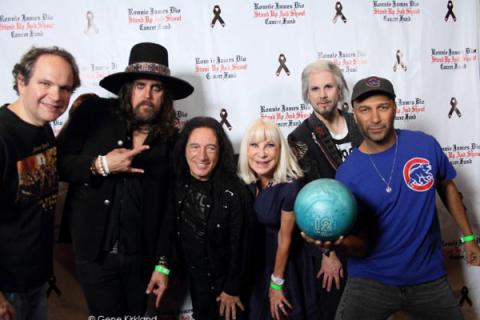 One of late heavy metal singer Ronnie James Dio's signature songs was the rollicking number "We Rock." This month friends and supporters for the former Black Sabbath/Heaven & Hell/Rainbow/Dio singer took to rolling instead to help fight cancer in his memory
The second annual Bowl 4 Ronnie Bowling Party to support the Ronnie James Dio Stand Up and Shout Cancer Fund recently raised more than $36,000 USD ($48,361 CAD) at the Pinz Bowling Center in Studio City, California on Nov. 4.  The release with the finally tally was only just announced.
Some 300 people from the hard rock community, including  Tom Morello (Prophets of Rage), Rudy Sarzo (Dio/Quiet Riot/Whitesnake) and John 5 (Rob Zombie) took part in the bowling fundraising event.
A powerfully-voiced singer, Dio was credited with popularizing heavy metal's ubiquitous "devil horns" hand gesture. He died on May 16, 2010 due to stomach cancer.
In the aftermath of his death his wife Wendy Dio started the Ronnie James Dio Stand Up and Shout Cancer Fund with medical director Sandeep Kapoor. The fund is dedicated to supporting research and education that furthers early detection, prevention and treatment of prostate, colon and stomach cancers. The fund has raised more than $1 million USD ($1,340,000 CAD) towards this goal since its inception.
At the bowling event, the Dio Fund gave $25,000 USD ($33,582 CAD) to Dr. David Wong, director of the Dental Research Institute at the University of California, Los Angeles, to help fund his work developing a non-invasive saliva test for early cancer detection.
"The NIH (National Institute of Health) has recently given (Wong) a grant to do a 'prospective trial' looking at stomach cancer biomarkers," said Kapoor in a release. "There is going to be a 'liquid saliva' screening test for stomach cancer that I and millions of other doctors will be able to use in our offices. This simple saliva test might have saved Ronnie's life, and it will be able to save countless lives in the future."
Some of the other rockers who attended the bowling event included Dino Cazares (Fear Factory), Bjorn Englen (Dio Disciples/Tony MacAlpine/Yngwie Malmsteen), Chris Broderick (Megadeth/Act of Defiance), Roy Mayorga and Christian Martucci of Stone Sour, Tim "Ripper" Owens (Dio Disciples/Judas Priest), Monte Pittman (Madonna), Lizzy Borden, and Brendon Small (Dethklok/Metalocalypse).
When he was alive Dio was active in a number of charitable causes, particularly in support of animal-related causes. The singer also supported Children Of The Night, a privately funded non-profit organization dedicated to rescuing America's children from the ravages of prostitution.
冬メンズコーデの参考にしたい「ジーンズ」のスナップを厳選 , メンズファッションメディア