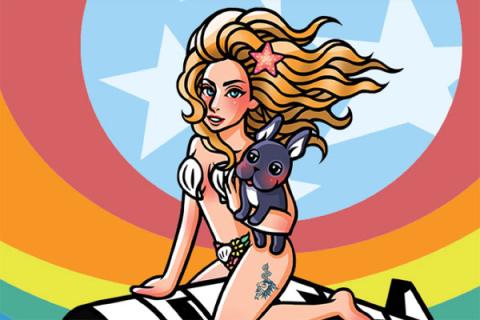 Lady Gaga wants your information. Or, more specifically, her Born This Way Foundation wants you to take the "Born Brave Experiences Survey." Taking the survey, which targets two separate age groups — 13-18 year olds and 19-25 year olds — will help the foundation use the findings of its research to support its work and make the world a better place.
Formed in 2011 by Lady Gaga and her mother Cynthia Germanotta, the Born This Way Foundation is a non-profit "committed to supporting the wellness of young people, and empowering them to create a kinder and braver world." With a focus on improving the mental health for young people, the Born This Way Foundation uses on-the-ground research from young people to help build towards their cause.
Gaga herself frequently retweets Born This Way Foundation initiatives and makes appearances at events that support efforts to improve youth well-being.
We need to talk about our emotions! https://t.co/FI0ZFjB2vL #EmotionsMatter

— Born This Way (@BTWFoundation) November 15, 2015
Some of the things the Born This Way Foundation has spearheaded since its creation include a Symposium on Youth Meanness and Cruelty, an even done in with Harvard's Berkman Center For Internet & Society, to discuss research and findings related to bullying, meanness, and cruelty, the Kinder & Braver World Project Research Series, the Born Brave Bus, a mobile youth drop-in centre, on top of providing online health and well-being tips.
The new survey, the third the foundation has done since its creation, asks questions about things like empathy, peer and family support, involvement in bullying/victimization, hopes for the future, self-concept, sexual and gender identity acceptance and outness.
Born This Way's first study in 2012 found that things like digital access — social media, instant messaging, and texting — actually created the potential for more relentless, 24 hours per day, seven days per week instances of bullying and hurtful behavior. It also found that teens respect peers who are "neutral," who appear popular and confident, and can still be nice to accepting of others, and that most teens are afraid to "be nice." They fear retribution if they stand up for others.
One of the things the organization's second study in 2014 found was that the traditional mental health services like telephone help lines were an outdated means of connecting with in-need teens. Instead, they preferred text messaging, the internet and/or in-person means of communication when seeking help.
adidas