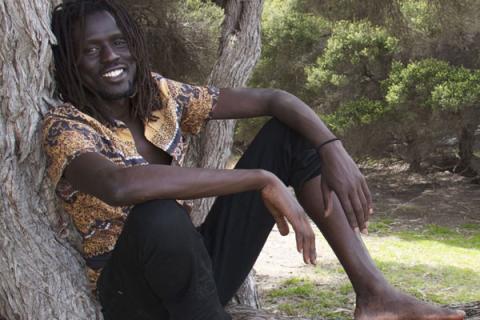 Sudanese-Canadian hip hop artist and former child soldier Emmanuel Jal is one of three recipients of the 2018 Václav Havel International Prize for Creative Dissent, established in 2012 by the Human Rights Foundation (HRF).
The prize, which was announced  April 12 in New York, "celebrates those who, with bravery and ingenuity, unmask the lie of dictatorship by living in truth."

Jal escaped from the Sudan People's Liberation Army into Kenya and, many years later settled in Canada. His autobiography War Child: A Child Soldier's Story was published in 2009 and he has released five albums in his music career, including the celeb-packed single/video "We Want Peace" and the latest full-length,  2014's The Key. Jal also had a key role in the 2014 film The Good Lie, alongside Reese Witherspoon, which focuses on the Second Sudanese Civil War.

"Emmanuel uses powerful music as a vehicle to spread a message of freedom and hope for a better future in war-torn South Sudan. He inspires people everywhere to stand up for the freedom of others, and in so doing brings people closer together," said Havel Prize Committee member Garry Kasparov, in a statement.

One of the other Havel Prize winners was the Belarus Free Theatre (BFT).  BFT are a documentary theater group that would perform in secret locations (private homes, cafes, and even the woods) to combat Belarusian dictator Alexander Lukashenko's censorship.

"Belarus Free Theatre defies oppression in its proud celebration of free speech and the arts, bravely defending civil liberties in a Soviet-ruled state," said Havel Prize Committee Chairman Thor Halvorssen.

A third Havel Prize winner has yet to be announced in order to avoid having possible travel restrictions imposed on them. All three will be honoured at the 2018 Oslo Freedom Forum on May 30 and will share in a prize of 350,000 Norwegian kroner ($56,596.75 CAD).

HRF is a nonpartisan nonprofit organization that promotes and protects human rights globally, with a focus on closed societies. Past winners include Chinese artist Ai Weiwei, Russian punk protest group Pussy Riot, North Korean defector Park Sang Hak and Saudi women's rights advocate Manal al-Sharif.
Nike Air Max 270