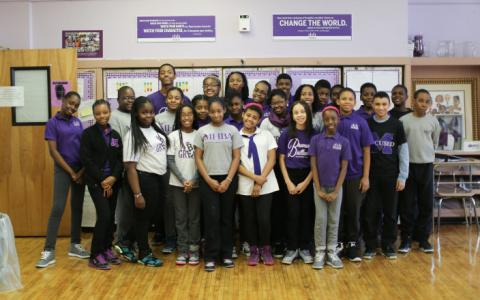 They may go to school in one of the most dangerous neighbourhoods in New York City, but students at one Brooklyn middle school now have a better shot at escaping poverty, and they have an amateur photographer — and more than 36,000 strangers — to thank.
Humans of New York founder Brandon Stanton was visiting the crime-ridden neighbourhood of Brownsville in Brooklyn this past January when he met Vidal, a 14-year-old student at Mott Hall Bridges Academy. Asked who his greatest influence was, the boy named his school principal, Nadia Lopez, inspiring Stanton to visit Lopez at the school.
Soon after, Stanton started an Indiegogo campaign to fund trips for incoming 6th graders to visit Harvard University. Lodging and transportation from Brownsville to the Cambridge, Massachusetts, campus would be covered. The idea is to "broaden their horizons and expand their idea of their own potential," according to a statement on the campaign's Indiegogo page.
The fundraiser began on Jan. 22 and will close on Feb. 9, 2015 (11:59 p.m. PT).
The initial $100,000 goal was met within 45 minutes. Some $700,000 was raised in the first four days from more than 25,000 contributors, enough for a decade's worth of trips to Harvard, as well as summer programs at Motts Hall. Monies over the initial $700,000 are being set aside for a scholarship program for MBHA graduates. Recipients will be chosen by a committee peopled by MHBA educators and administrators. Donations totaled over $1.1-million as of this writing.
"We're going to use the money from our fundraiser to get it started, but we're also going to lay tracks so that it can hopefully continue to assist scholars for years to come," Stanton wrote on the Indiegogo campaign page. "It will be called The Vidal Scholarship Fund.  And the first recipient will be Vidal."
"Before all of this happened for our school, I felt broken," Lopez said in a statement posted to Humans of New York's Facebook page. "And I think the world felt a little broken too, because a lot of bad things have been happening lately, especially between black people and white people. But all of you gave people a reason to feel a little less broken. And the craziest thing about all of this is that it's happening in Brownsville."
The MBHA campaign is not Stanton's first foray into philanthropy. After Hurricane Sandy struck New York in late 2010, he set up an Indiegogo campaign with Tumblr founder Gary Karp that raised over US$300,000 for victims of the storm. In 2013, he again used Indiegogo to raise money for a couple attempting to adopt a child from Ethiopia. And last year he raised money to send a boy and his family on vacation to a Colorado horse ranch.
Air Jordan 1 Retro High OG Black and White-Black For Sale