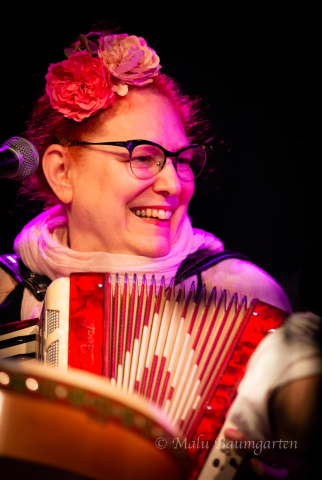 Long-time publicist and Hotcha! musician Beverly Kreller has put together the first-annual Speak Music Be Kind Festival, this weekend at Toronto's Tranzac Club, proudly programming a gender-balanced line-up and dedicating the net proceeds to the Unison Benevolent Fund, which provides counselling and emergency relief services to the Canadian music community, including financial aid. 
Tickets are $20 for all three days — kicking off the music at 7 p.m. on Friday, and 1 p.m. on Saturday and Sunday.
"There are, of course, many charities needing financial help, but I chose this charity because it seems that now more than ever, musicians are having a difficult time making a living," Kreller tells Samaritanmag. "Music venues are closing down and the cost of living and housing here in the city of Toronto is outrageous and out of reach. And kindness is in their name, 'Benevolent.'"
Kreller plans to select a different charity each year.  But while Unison is the main beneficiary this year, Speak Music Be Kind is also bringing attention to Community Meal, a non-profit with a mission to make food donation a norm in the hospitality industry.
"They are partnering with us so we can help them bring awareness of what they do," Kreller says. "The co-founder Emma Druckman is our niece and because it's such a wonderful community initiative, I thought it was a great idea to bring them on board." (Kreller's husband is Howard Druckman, editor in chief, communications & marketing, at performing rights organization SOCAN).
Kreller has owned and operated Speak Music, a publicity and promotion company, for the past 12 years, representing musicians, music events, as well as a number of music festivals. She has also been the artistic director or sat on the board of several Toronto festivals. Armed with that knowledge, she has created the kind of music festival she has always wanted to see. 
Of the 51 performers, 26 are female solo artists, all-women duos or bands, or women-led bands. Of the rest, only 20 acts are men or men-led (39 percent), while the remaining five acts are evenly gender-balanced.
"We just might be the first gender-balanced music festival in Canada," she opines. "When booking other festivals, it was always my goal, but now I'm very proud to say I can achieve it. I know a lot of amazing female artists in our local Toronto music community alone, so it's a no-brainer for me."
One particularly unique ensemble is the Recollectiv, comprised of people with memory impairments (caused by dementia, Alzheimers, Parkinsons, stroke, PTSD, brain injury etc...). The group rehearsals and performances are intended to "help them gain a new social network, rediscover a sense of accomplishment and find joy through music-making," it explains on the site.
The full Speak Music Be Kind lineup is:  Abby Zotz, Abigail Lapell, Al Parrish, Al Qahwa, Angela Saini, Anne Lederman, Annie Sumi, Arlene Bishop, Ben Heffernan, Blair Packham, Blisk, Chloe Watkinson, Conor Gains, Darbazi, Dave McEathron, David Newland, Dr. Draw, Echlo (Chloe Charles), Field Guide,  Gary Kreller, Gina Horswood, Ginger St. James, Hotcha!, Jamzac, Johnson Crook, Julian Taylor, Ken Yoshioka, Kim Doolittle, Lunar Bloom, Lydia Persaud,  Maggie and Mr. Rogers, Merival, Mike Field, Miniscule, Moonfruits, Mr. Rick, Ori Dagan,  Piper & Carson, Recollectiv, Richard Garvey, Rob Szabo, Samantha Martin & Delta Sugar, Sammy Duke, Shi Wisdom, Simone Morris, So Long Seven, Sweet Pea Band,  The Barrel Boys, The Broom Straws, The Dirty Dishes, The Lifers, Tia Brazda, Toninato & Thiessen, Toque Trad, Tragedy Ann, Trevor Cape and the Field,  Vivienne Wilder Trio, and Winona Wilde.
Themed musical workshops include Ukelele Universe,  Bluesrockin' Roots, Hamilton Roots,  Bellowing Accordions, Fiddlin' Fury and  Americana Pie.
(Please support Samaritanmag's original journalism by making a PayPal contribution or EMT transfer using  info@samaritanmag.com so we can increase the amount of content and writers we hire. Samaritanmag is the anti-tabloid, covering good people trying to change bad things. Let's make this thing bigger than TMZ.)
girls youth nike high tops shoes Light Smoke Grey