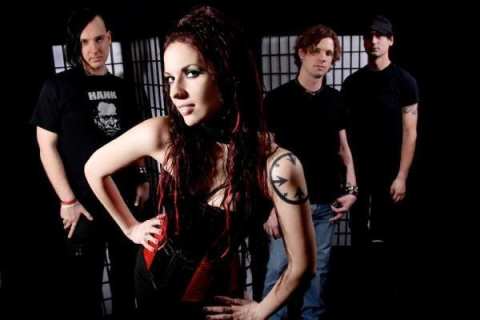 Chicago electro-industrial rock band I:Scintilla is calling on their fans to help to raise funds for Darkest Before Dawn by downloading contest winners' remixes of their single "Carmena Saturna," a song which will appear on their new album, Swayed,  out  Sept. 21. The top 5 submissions are being sold for $1 (USD) minimum and the track that generates the most income by Aug. 10 wins.
The song, written in Feb. 2014, is "about the ephemeral nature of relationships and memories and how easy it is to lose ourselves in the fast-paced, modern society," singer-songwriter Brittany Bindrim tells Samaritanmag.
For those that would like to purchase the entire release without casting a specific vote, there is an option to purchase all five tracks for $5.00 USD or more. All sales generated by the remix contest (minus BandCamp fees) will be donated to Darkest Before Dawn.
The Chicago and Los Angeles-based charity is unique, created in response to the death of a beloved Chicago musician and sound engineer, Jamie Duffy, whose "abrupt passing had a profound effect on the electronic and metal music families," it explains on its web site.
At first,  Cold Waves was launched in 2012 as a memorial concert, which grew to a multi-night festival with spinoff shows in LA and then this year to shows in New York City, LA, as well as Chicago.
His death prompted "a call to arms to examine the mental health of our nightlife industry personal. What we found was a staggering lack of resources and support in this community, an oft-overlooked demographic who's [sic] very job is to provide entertainment, leisure, and sustenance to the rest of us," it says on the site.
"We found a very high-risk group working long, late hours, with little to no access to mental health support, and aimed to make a difference. In 2016, we launched Darkest Before Dawn and make it the target of our fundraising efforts from the Cold Waves festival." It is based in Chicago and Los Angeles."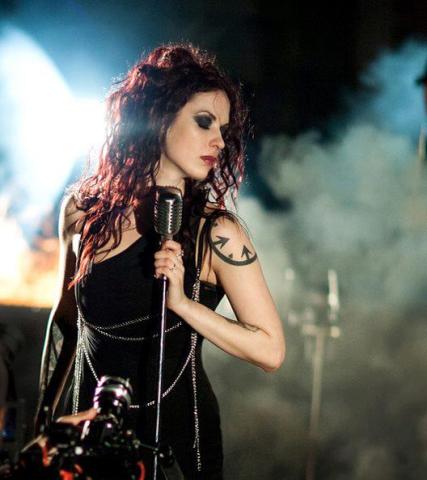 Formed 15 years ago with a different lineup and style, I:Scintilla — which includes co-founders Bindrim and Jim Cookas (guitars, programming); Vincent Grech (drums); Dean Dunakin, (bass); and the most recent addition, Myles Arwine (guitar) —  is hoping to raise $800 (USD), says Bindrim.
"It's because they work late hours at stressful jobs and may also have an isolated commute home after. That leaves the susceptible to loneliness, depression and addiction," she says. "They don't have people to talk to in the middle of the night, when everyone else is asleep. So what this charity wants to do is provide a community for them – friends and other services working to get together and talk about all these issues.
"As musicians and music lovers, it's a really important issue for us because these are the people who work so hard to make our night life and our entertainment a fun experience. These are amazing, hardworking people who work at the venues: the sound people, the bartenders, the bouncers that keep us safe."
According to the charity's website, the organization primary goal is "to provide resources, support, and community for our nightlife, restaurant and music venue industry, who's late hours and isolated commutes leave them susceptible to depression, addiction and suicide. Recent data points to a high rate of chemical dependency and suicide for this demographic in our country, especially in the very industries built to provide excitement, leisure and happiness to everyone else.
"They are the people heading home in the early morning hours, when businesses are closed, the streets are empty, and it truly is the darkest period of time before the dawn. We have lost too many members of this community, from artists and chefs to bartenders and waitstaff, security, healthcare and more."
Among the goals of  Darkest Before Dawn is to create a directory of businesses committed to the health, safety and support of industry employees; a telephone and text hotline staffed by crisis counsel-certified peers in the latest of hours; industry-focused chat rooms, social media pages and message boards; safety programs and security advocacy for employees as well as patrons; a curated list of medical and mental health resources, offering sliding-scale rates and off-hour access; fundraising efforts for industry artists and employees in need; a testimonial site to share stories, art and photos of those who need support, or those we have lost; and finally a return to proper service industry appreciation events and fundraisers.
Cookas remembers when the one-day music festival took place in Duffy's honour in 2012 and is impressed at how rapidly Cold Waves expanded to a three-day festival in three different cities.
"And so, the awareness of the charity and what it's trying to achieve has grown by leaps and bounds in just six years," he tells Samaritanmag.
By purchasing one of the five "Carmena Saturna" remixes, I:Scintilla will count each download as a vote. The remix with the most votes will be the official B side of the band's next single, which is coming out Aug. 31.
"It started a little while where we made the song 'Carmena Saturna' available as a remix, which means the song was broken down into the individual instruments [called stems]. So, the vocals are isolated, the guitars, bass and so on," says Cookas. "And from there, anybody, including other musicians, producers or bands, took that audio and did whatever they want with it. They made their versions and sent it to us and from there the band and people close to the band picked five finalists. Those five remixes were put up on Bandcamp, which is a platform for independent musicians to sell downloads directly to fans.
"We set the cost of each track at a dollar, but we ticked the box that will allow people to pay more if they want. So, if they want, they can pay the minimum of a dollar for one track, which may be their favourite. Or they can buy three of the five if they want, or they can buy all of them for a minimum of $5. But the main thing is, if they really want to support the cause, they can donate more than the minimum. Some people have bought the download for $20, which means they are supporting the cause, but also giving 20 votes to that remix version. And even the people who did the remixes are welcome to download and donate. If one of the people who did a remix wants to donate $400 just to be the winner, that's okay by us."
(Please support Samaritanmag's original journalism by making a PayPal contribution to info@samaritanmag.com so we can increase the amount of content and writers we hire. Samaritanmag is the anti-tabloid, covering good people trying to change bad things)
nike fashion