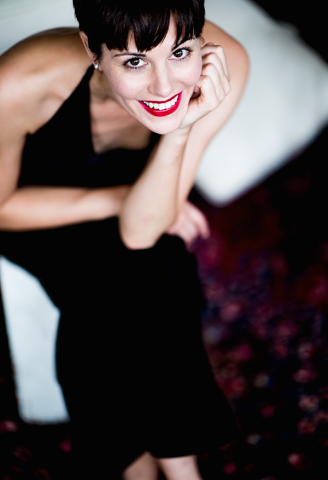 Toronto jazz singer Genevieve "Gigi" Marentette hopes to raise $10,000 over four seasons for Women's College Hospital through her new music series. The first edition, entitled Women In Jazz, is Oct. 20 at Gallery 345.
"During my 40th year of life, I am hoping to bring awareness to the Women's College Hospital and their efforts to bring more resolution to the women's health gap," she writes in her newsletter announcing the fundraisers. "Maybe I can do Women in Funk, Women in Techno, Women in Hip Hop events…endless fun."
Women in Jazz features Marentette, accompanied by an ensemble comprising award-winning composer/pianist Nancy Walker, bassist Carlie Howell, and drummer, Zaynab Wilson), plus special guests bandleader/trumpeter Marie Gaudy and jazz vocalist Joanna Majoko.
Tickets for the event — happening at 345 Sorauren Ave. in the trendy Roncesvalles neighborhood — are $25. There will also be a raffle for a private house concert by Marentette.  All monies raised go to Women's College Hospital.
"It is shocking to me how little is known in my circle about this fantastic institution and about the women's 'health gap,'" Marantette said, referring to Women's College Hospital's continued efforts to improve education of women's health issues and close the health gap. 
Among the information she includes in great detail are facts that "women are overlooked and underserved because healthcare has traditionally not considered the impact of sex and gender differences" and were not included in most healthcare and medical research studies until the 1990s.
The "did you know" sections  — taken from the Women's College Hospital web site —are statistics on chronic diseases and conditions, women's mental health, and social determinants of health. She also includes information from the standalone site The Heath Gap.
As well as performing, Marentette produces jazz concerts, in particular the Kensington Market Jazz Festival, now in its second year, which she co-organizes with fellow jazz singer/philanthropist and multiple Juno Award-winner Molly Johnson, and Israeli-born jazz performer Ori Dagan, a two-time winner at the 2015 Toronto Independent Music Awards.
Having spent eight years performing across Europe and Asia, Marentette returned to her Toronto roots in September 2015 when she began performing and producing jazz shows in and around the city.
Nike