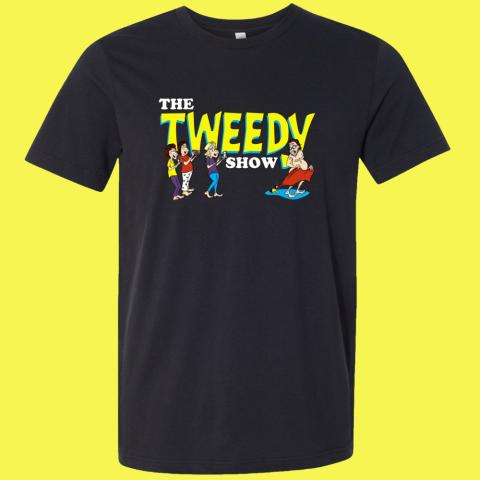 While many music artists have been doing sporadic live stream performances during the COVID-19 lockdown, Wilco frontman Jeff Tweedy and his family have been staging them on an almost nightly basis from the basement of their Chicago house for something they call The Tweedy Show.
The hour-long show, which airs at 10 p.m. ET on Susan Tweedy's stuffinourhouse Instagram page, regularly attracts well over 1000 viewers — whom the Tweedys refer to as clients. Since they have a dedicated audience, it was recently decided to add a fundraising element through the sale of The Tweedy Show T-shirts on its website.
The 100-percent cotton tees sell for $25 (USD) and 100 percent of the proceeds will be donated to Be Alright, which was founded in 2009 by Dr. Sonia Oyola to create a database of resources for domestic violence survivors and help convert Chicago-area shelters into havens of healing.
The goods and services-oriented organization tries to be flexible and responsive, and its efforts are particularly crucial during this period when people are largely sheltered at home. Oyola says on the Be Alright website that many communities are experiencing a rise in domestic violence cases of up to 30 percent.
The shirts will be shipped in EcoEnclose compostable mailers starting on May 21.
The Tweedy Show, which had its 50th episode on May 16, offers music, humour, conversation and quite a few F-bombs. It also provides a casual inside look at four people who you can tell love each other and share a strong bond that goes well beyond music. It took a brief hiatus, to allow Jeff Tweedy time to work on and meet the deadline for his next book, and will return on May 25.
While the patriarch of the Tweedy family is most well-known for his 25-year history with Wilco, he recorded four studio albums with Uncle Tupelo before that. He's also: been part of Golden Smog and Loose Fur; released three solo albums and a Tweedy album with his son Spencer; produced music for the likes of Mavis Staples, White Denim and Richard Thompson; and published a memoir.
The Tweedy Show features Jeff playing guitar and singing his own songs and those by other people. Spencer, 24, offers percussion by tapping his legs or getting behind a drum kit. Youngest son Sammy, 20, has displayed an impressive voice and musical taste with the songs he chooses to perform. Jeff's wife Susie holds everything together as the pseudo-host with her between-song comments.
Spencer's girlfriend Casey Walker, a singer-songwriter who performs as Case Oats, sometimes appears with her dog Basil.
In the last month Be Alright has provided funds to COVID-19 drives of many organizations that help people affected by domestic violence, including:
Apna Ghar, a human rights organization working to end gender violence;
House of the Good Shepherd, which provides holistic transitional housing and family violence recovery programs to empower women and children;
Madonna House, which helps families affected by homelessness and provides services to help them become self-sufficient;
Greenhouse Shelter, which provides safe refuge and support to help victims and their children take their first steps to ending abuse;
Su Casa, which has a mission to create a community of hospitality and healing for families in crisis;
Maria Shelter, a 50-bed interim shelter primarily for homeless women and their children;
Family Rescue, which is dedicated to eliminating domestic violence by providing comprehensive support services and shelter to victims of domestic violence, engaging in advocacy to promote future system change, and encouraging prevention through community education;
and Centro Romero, a community-based organization that serves the refugee immigrant population on the northeast side of Chicago through: youth learning and leadership, domestic violence prevention and public benefits programs; a new Americans initiative; adult education; and legal services.
Be Alright has delivered cleaning supplies, diapers, feminine hygiene products, clothing and gift cards to its partners. Its website offers information and resources for people wanting to know more about, or are experiencing, domestic violence. It also provides covid-19 resources.
"Be Alright hopes that these acts of kindness can help shape a future world where domestic violence is no longer tolerated," it says on The Tweedy Show site. "Please help us help them achieve that goal. The sale of these shirts will go to Be Alright to help support survivors and their families as they are taking their next steps toward a safer life."
Air Jordan 11 25th Anniversary Black Silver Eyelets CT8012-011 2020 Release Date