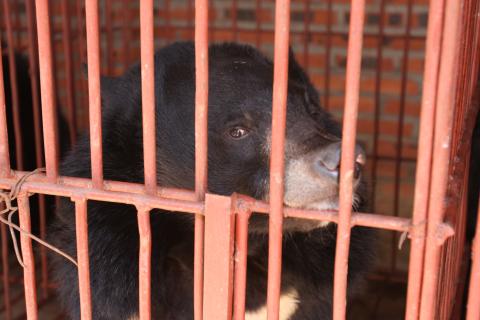 Paul McCartney, Judi Dench, Joaquin Phoenix, Russell Crowe, Ricky Gervais and other well-known figures from around the world have joined renowned conservationist Jane Goodall in signing the Moon Bear Pledge. The Animals Asia's campaign calls for an end to the bear bile industry that's pushing Asiatic black bears to the edge of extinction in Vietnam.
They're known as moon bears in Vietnam and are farmed so bile can be extracted from their gallbladders, in a painful process that causes long-term health problems, and be used in traditional Asian medicine for treating liver and gallbladder conditions. They're often confined to tiny cages and subject to cruel treatment.
William Shatner, Andie MacDowell, Mayim Bialik, Anjelica Huston, Alan Cumming, Richard Gere, Kim Basinger, Kesha, Simon Le Bon, Alicia Silverstone, Olivia Newton-John, Natalie Imbruglia, Joanna Lumley, Ali MacGraw, Helena Christensen, Stephen Fry, Slash and Matt Sorum are among those trying to raise awareness of the plight of the moon bear.
Signing the Moon Bear Pledge is open to everyone and it's hoped the involvement of big names from entertainment and environmental and conservation causes will give the campaign a boost.
The pledge can be signed here and donations to Animals Asia can be made here.
"The moon bear is one of only eight species of bear left in the world, and it is vulnerable to extinction," Goodall said in a media release. "Join me. Sign the moon bear pledge. Raise your paw for the moon bear."
"I am so proud to be part of this pledge and to give my support to this campaign - rescuing the moon bear from the cruel practice of bile extraction," said Dench, an acclaimed British actress, in the release.
"Animals Asia has taken a major step forward in partnership with the people of Vietnam to end this practice, and secure a better future for these beautiful animals. This pledge is the next crucial step towards saving a species from the edge of extinction and giving back the life stolen from hundreds of bears left in bile farms."
Bear bile farming has been illegal in Vietnam since 1992 but has persisted due to legal loopholes, continued demand and the high prices that can be obtained for the bile. The poaching of bears from the wild to stock these farms has pushed the Asiatic black bear on to the endangered species list in Vietnam, according to The International Union for Conservation of Nature (IUCN).
Vietnam's government agreed to end bear bile farming once and for all in 2017 and signed a memorandum of understanding with Animals Asia, naming the charity its official partner in bringing the industry to a close.
Animals Asia was founded in 1998, but the people behind it have been rescuing bears since 1984.
The most up-to-date surveys show there are around 400 bears on Vietnamese bile farms. While Animals Asia's Vietnam Bear Rescue Centre in Tam Dao is approaching full capacity, a new sanctuary needs to be built before the organization can start rescuing bears remaining on farms. The organization is about to break ground on a new 12-hectare sanctuary in Bach Ma National Park and is recruiting and training staff to look after the bears for the rest of their lives. 
Animals Asia also works to lessen the demand for bear products by engaging with the traditional medicine community and other users of bile to promote herbal and synthetic alternatives. The organization holds educational campaigns for the Vietnamese public and contributes to research to promote herbal alternatives to bear bile.
Animals Asia is the only organization with a bear sanctuary in China, where bear bile farming is still legal. It transferred 101 bears 1,250 kilometres from a former bile farm in Nanning to its bear rescue centre in Chengdu earlier this year.
Animals Asia also works to end the trade in dogs and cats for food as well as abusive animal practices in zoos and safari parks. It collaborates with governments and non-governmental organizations to improve the welfare of companion and captive wild animals.