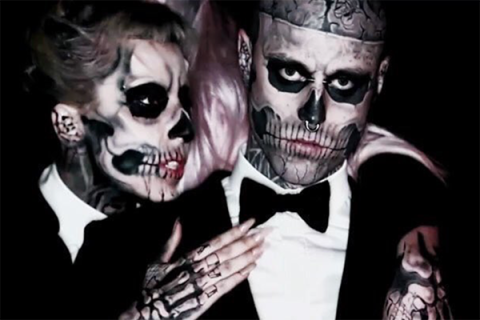 Rick Genest, the Canadian model and artist known as "Zombie Boy," died Aug. 1 of an apparent suicide, and Lady Gaga, who hired him to star in her epic good vs. evil video for "Born This Way" in 2011 about "a race which bares no prejudice, no judgement," took to Twitter to express her condolences and urge others in pain to seek help.
"The suicide of friend Rick Genest, Zombie Boy is beyond devastating," Gaga wrote in a series of tweets. "We have to work harder to change the culture, bring Mental Health to the forefront and erase the stigma that we can't talk about it. If you are suffering, call a friend or family today. We must save each other.
"Science tells us that it takes 21 days to form a habit, if you are suffering from Mental Health issue I beckon for today to be your first day or a continuation of the work you've been doing. Reach out if you're in pain, and if you know someone who is, reach out to them too."
[IMPORTANT NOTE: Gaga has since apologized to Genest's family, Rick & his legacy for speculating on the cause of his death," she wrote on Twitter].
According to Suicide Prevention Canada (CASP) , every year, almost one million people die from suicide; a "global" mortality rate of 16 per 100,000, or one death every 40 seconds. Worldwide, suicide ranks among the three leading causes of death among those aged 15 to 44 years. 
According to StatsCan, males are three times more likely to commit suicide than females.
"Kindness and mental health aren't one time practices," Gaga added. They aren't just to do list items. This fall, in partnership with @btwfoundation, I'll explore the power of habits to build cultures of kindness and wellness. Sign up to learn more https://secure.bornthisway.foundation/page/3554/subscribe/1?locale=en-US …
Lady Gaga founded Born This Way Foundation in 2012 with her mother, Cynthia Germanotta. The mandate is "supporting the wellness of young people and empowering them to create a kinder and braver world. To achieve these goals, Born This Way Foundation leverages evidence-based programming and authentic partnerships in order to work with young people to build kinder communities and improve mental health resources." The landing page includes help hotlines prominently for such organizations as The National Suicide Prevention Hotline, Trans Lifeline and Teen Line.
Genest, who was covered head-to-toe by corpse-like tattoos, had appeared in a unique Dermablend coverup ad captioned "How Do You Judge a Book?" was once the face of Jay-Z's Rocawear fashion line, and modelled for fashion designers Thierry Mugler, and was a muse for sculptor Mark Quinn. He was also featured in a gaming app called Zombie Hit, and had apparently been working on an album with ex Rob Zombie guitarist Riggs.
Ducedo Management, who handled Genest's career, posted this heartfelt message on its Facebook page:
"The whole dulcedo family is shocked and pained by this tragedy. Zombie boy, Rico, was loved by all those who had the chance to meet him and know him. Icon of the artistic scene and the fashion world, this innovator, against popular culture, has been able to charm all hearts. We received the unfortunate news at the beginning of the afternoon and members of the team have come to support his family and relatives in this dark and difficult moment. We want to present our deepest condolences and the legend will survive human. Thank you zb for these beautiful moments in your company and for your radiant smile."
(Please support Samaritanmag's original journalism by making a PayPal contribution to info@samaritanmag.com so we can increase the amount of content and writers we hire. Samaritanmag is the anti-tabloid, covering good people trying to change bad things)
Adidas Yeezy shoes