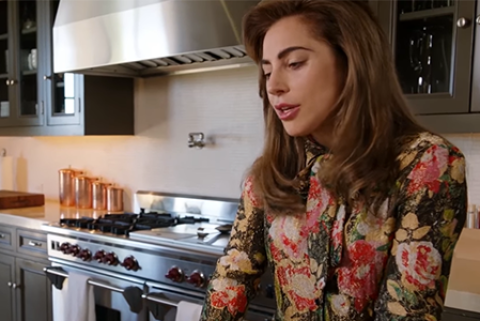 As a result of the Mental and Emotional Wellness Innovation Challenge, five schools from across America will be receiving support from Lady's Gaga's Born This Way Foundation, and Donors Choose to help improve their mental health programs for students.
The five classroom projects were chosen "for their potential to decrease stigma around mental health and teach students skills to manage their emotional wellness," according to a release.
They were selected from 673 mental and emotional wellness projects that have been fully funded in 405 schools across the United States, through Born This Way Foundation's partnership with Donors Choose, it states on the web site. "Thank you to the 1,900 donors that joined us in making this possible, helping more than 72,000 students and supporting 489 teachers."
The five schools each receiving $5,000 USD ($6,429 CAD) from Donors Choose to help fund their respective projects are Windsor Hills Elementary School 87 in Baltimore, MD, which will provide lessons in the areas of self-awareness, self-management and responsible decision-making; Lilla G Frederick Pilot Middle School in Dorchester, MA, which will teach students about mental health and trauma associated with immigration; Helix Charter High School in La Mesa, CA, which will provide materials to help manage stress; Bailey Station Elementary School in Collierville, TN, which will be provided therapeutic games to use in counseling sessions; and Clifton High School in Clifton, NJ, which will expand on its "Catch Feelings" program, that explores the honest emotions of students.
Formed in 2011 by Lady Gaga and her mother Cynthia Germanotta, the Born This Way Foundation is a non-profit "committed to supporting the wellness of young people, and empowering them to create a kinder and braver world." With a focus on improving the mental health for young people, the Born This Way Foundation uses on-the-ground research from young people to help build towards their cause.
The organization has supported initiatives like the Games 4 Change program in addition to aiding 30 different non-profit organizations in a charity outreach tour. Gaga herself frequently retweets Born This Way Foundation initiatives and makes appearances at related events.
Donors Chose is an organization that helps teachers obtain supplies they need to better achieve their goals. Started in 2000 by Bronx, New York public high school teacher Charles Best, the way Donors Chose works is that teachers put out a request via the site for a specific item or service and then interested citizens have the option of helping fund this request.
Jordan