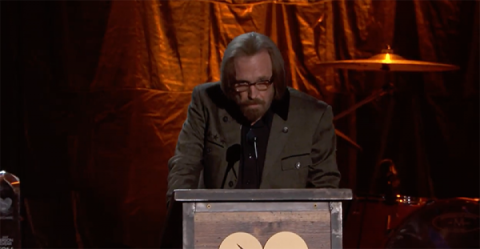 Righteous rock 'n' roller Tom Petty, who was honored earlier this year as the MusiCares Person of the Year and just wrapped up a 40th anniversary tour, has died at age 66.
The singer behind hits like "I Won't Back Down," "Free Fallin'" and "Learning To Fly," was found unconscious, not breathing and in full cardiac arrest in his Malibu, California home on Sunday night. He was taken off life support Monday afternoon.
Petty left a rich legacy with the music he made with his backing band The Heartbreakers, as a solo artist, and as part of one of the all-time biggest supergroups, The Traveling Wilburys, also featuring Bob Dylan, George Harrison, Roy Orbison and Jeff Lynne.
He also supported a number of important causes through the years, including Midnight Mission, a Los Angeles-based support program for the homeless, Safety Harbor Kids, an organization that helps orphan, foster and homeless children, music-themed environmental advocacy organization Rock the Earth and the Special Olympics.
Petty was honoured at the 59th Grammy Awards as the MusicCares person of the year. The related gala concert event, which took place Feb. 10 at the Los Angeles Convention Centre and featured the likes of Foo Fighters, Don Henley, Norah Jones, Stevie Nicks, Jackson Browne and Randy Newman, raised more than $8.5 million USD for MusiCares, The MusiCares charity provides financial and medical services for members of the music industry in times of need.
"I'm just so beyond honoured to be here for MusiCares, for something that does something for musicians," said Petty at the event, before telling a number of other stories about his recording career in an 11-minute speech. "I know people that this has directly affected and they know how to do it. They don't ask for a lot of paperwork and the money shows up. They've helped so many people."
Watch Tom Petty's MusiCares speech
Nike - Shoes & Sportswear Clothing