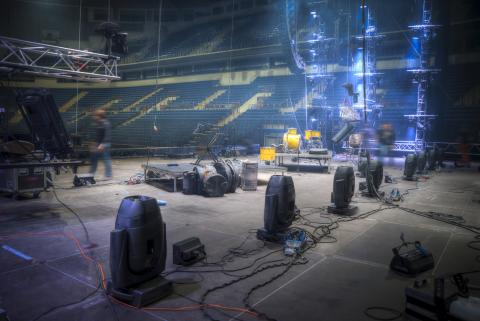 Live Nation Entertainment has launched a $10 million (USD) Crew Nation Fund to support concert crew members impacted by the prolonged postponement or cancellation of live concerts amid the coronavirus pandemic.
The live concert and sports promoter has committed $5 million to Crew Nation, and will match the next $5 million given by artists, fans and employees dollar for dollar.
"Crew members are the backbone of the live music industry, and we hope you'll join us in supporting them through this temporary intermission until we can once again unite millions around the world through the power of live music," Live Nation says on its website about the global relief fund.
Applications for the relief fund are being made and assessed based on the timing of shows, and when they were postponed or cancelled.  
Both touring or venue crew members, whether working front of house or backstage, and who make half or more of their income from live concerts, are eligible for the relief fund.
Applications earlier closed for shows originally set for March or April 2020, and the next application window for crew members facing financial hardship will open the week of May 18, and will focus on shows scheduled to take place in May 2020.
The pandemic forced Live Nation in March to put concerts and touring on hold that crew members depend on for work.
Michael Rapino, president and CEO of Live Nation, on his Twitter account said he and his family had donated $250,000 to the Crew Nation Fund.
The COVID-19 relief fund is administered by The Music Forward Foundation, a charity launched in 1993 to help young people (aged 12 to 22) navigate the music business via free educational and employment programs.
The foundation is aligned with House of Blues entertainment venues owned and operated by Live Nation.
Supreme