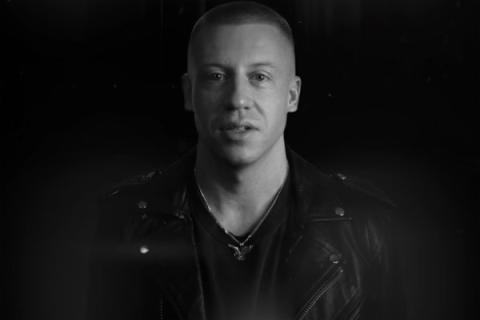 Seattle, WA rapper Macklemore used the Toronto edition of WE Day on Oct. 25 to make the live debut of his confessional new song, "Drug Dealer." In the song Macklemore confronts his own opioid addiction and time spent in rehab getting clean.
Macklemore made a special video address to explain the WE Day performance and how difficult it was for him to combat his addiction.
"Going to a treatment facility, I was given the tools and the counseling to figure out how to stay sober. But not everyone is so lucky," he said in the video, which has since been published on Billboard. "It wasn't something that I could just white knuckle through, I actually needed some outside support, some outside help, some people that loved me, that cared about me, that wanted to see me be successful and happy. This speaks to where we're at, it affects all of us."
Macklemore has been a central figure in U.S. President Barack Obama's recent initiative to combat opioid addiction. It's estimated that more than two million Americans are addicted to opioids. He also participated in MTV's recently released documentary Prescription for Change: Ending America's Opioid Crisis, which featured a frank discussion between the rapper and Obama. Macklemore, whose real name is Ben Haggerty, said his addiction spiraled out of control.
"It was apparent to me that I didn't have any moderation, I didn't know when to stop, one wasn't enough," said Macklemore in the video.
"It's a progressive disease, it gets worse with time. And I always felt that I could control it by myself, that I could take this drug out or just do this, but it didn't work and it got worse
"The deepest rock bottom that you can go is not wanting to live anymore. It leads me to that place every time but it's a disease and we need to be open about it and we need to be honest about it."
The reason behind Macklemore's WE Day performance was in the hope that it helps others in a similar position.
"I've done things I'm not proud of," he said. "Every addict has. But today sharing my story with a stadium full of amazing young people I've turned that pain into something powerful.
"Today was a good day. A day that I'm proud of. Hopefully I can inspire some kids to talk about it, to help out someone in need and just keep the conversation going so we can get better together."
Watch the Prescription for Change: Ending America's Opioid Crisis documentary:
Nike