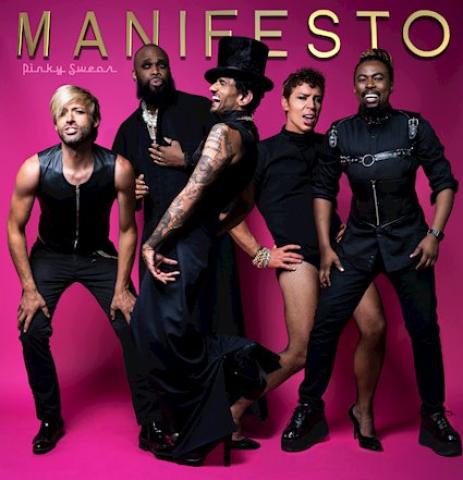 Toronto "man band" MANifesto, the brainchild of R. Kelly Clipperton, release their full-length debut, Pinky Swear, today (Sept. 10), a collection of cover songs from notable girls groups such as the Supremes, Pointer Sisters, Spice Girls and Bananarama.
"I've adored girl groups forever and desperately wanted to be part of their tribe," said Clipperton in a press statement. "I've also loved singing with other voices: harmonizing and supporting, and realized I'd never attempted that with other out gay men. The project developed out of these impulses."
A portion of proceeds from the album sales go to Rainbow Railroad, an organization which helps LGBTQI+ people escape countries where they experience state-enabled oppression, persecution and violence. According to its web site, the global not-for-profit has helped more than 1600 individuals "find safety through emergency relocation and other forms of assistance."
Clipperton (formerly of Kelly and the Kellygirls and Merkury Burn) assembled a diverse group of fellow gay men with "the right voices and energies" to fulfill his vision, joining him, just as Kelly, are the also singularly named Brayo, Dionisio, Icarus, and Twaine.
"We, foremost, want to elevate ourselves as openly gay men within this concept; a unifying adventure, and secondly want to bring as many glorious souls along with us on the ride," said Clipperton. "Though this has been a challenge to keep afloat throughout this difficult year and a half, we honestly feel the timing couldn't be better for a record like this."
Produced by Brad 'Merlin' Nelson (Cylinder Sound), Spencer Sunshine, and Daryn Barry (Orange Lounge), with arrangements by musical directors Anthony Bastianon, Stewart Borden, and Alan Moon, the tracklisting includes: "The Promise" (Girls Aloud), "Come See About Me" (The Supremes), "Say You'll Be There" (Spice Girls), "Mr. Sandman" (The Chordettes), "Automatic" (Pointer Sisters), "One Strike" (All Saints," "Not That Kinda Girl" (Fifth Harmony), "Don't Walk Away" (Jade), "Cruel Summer" (Bananarama), "Point Of No Return" (Expose), "Lady Marmalade (LaBelle)," and "My Lovin" (En Vogue).
"The song selection was pretty organic," said Clippeton. "When we started in the summer of '19, we amassed many different songs and sang them to see if our voices fit well. We also began paying particular attention to lyrics that we could interpret in different ways. Singing songs written (in most cases) by men, for women to sing, and now being presented by us, there was a lot to dig into."
Pinky Swear is available on all digital platforms, and in limited-edition neon pink vinyl.
Samaritan will run a full interview next week with Clipperton about their association and support of Rainbow Railroad.