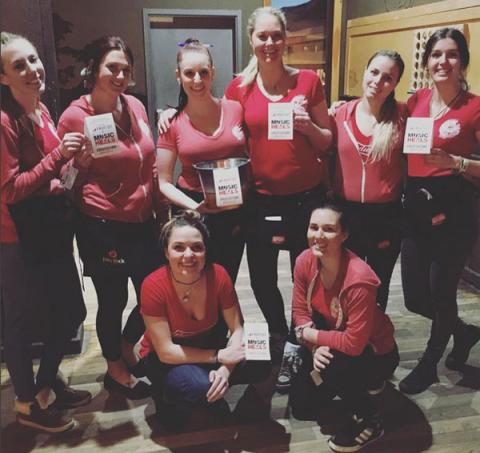 While many people will be using the month of March to plan holiday getaways, the folks at Music Heals will be hard at work for Music Therapy Awareness Month, a month-long campaign to illustrate the value of music therapy.
Music therapy, both the active act of playing music and the passive act of listening to music, is used in a wide variety of therapeutic fields to help clients' physical and mental health.
At the Vancouver, B.C.-based Music Heals Charitable Foundation, the goal is to help raise awareness about music therapy as well as fundraise for various related programs across Canada. Their mission is to increase patient access to music therapy in children's hospitals, seniors' homes, palliative care facilities, burn units, for clients on the autism spectrum, as bereavement support and as part of at-risk youth programs. In the last four years Music Heals has donated more than $900,000 to therapy programs across Canada.
This past Saturday more than 80 bars across Canada took part in the organization's A Night Out For Music Heals initiative. Participating establishments donated $1 per patron that night towards Music Heals.
Another program Music Heals has running throughout the month include the iPod reclamation project, iPod Pharmacy. Throughout the month, Long & McQuade customers can donate their old iPods at any of the music store's 74 outlets across the country. Those iPods will then be given to music therapists to use with their patients.
Retailers are also pitching in to help Music Heals. Headphone maker Skullcandy is donating 10 per cent from any March sales towards the charity. Additionally, Tempo Renovo dry gin is donating $1 from every bottle sold to the Music Heals.
Watch a music therapy introductory video:
【海外 12/17、国内 12月発売予定】ナイキ エア マックス 95 OG "ネオン/イエローグラデーション" (NIKE AIR MAX 95 OG "NEON/YELLOW GRADATION") [CT1689-001] , Fullress , スニーカー発売日 抽選情報を掲載!ナイキ ジョーダン ダンク シュプリーム SUPREME 等のファッション情報を配信!