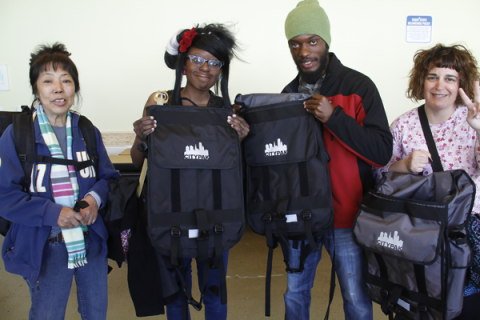 Ron Kaplan, co-founder of the Monterey International booking agency — representing such top artists as Bonnie Raitt, Buddy Guy, David Lee Roth and Great Big Sea — would see many less fortunate people on the streets of his hometown of Chicago and became inspired to do something to help them. Along with adventure travel gear manufacturer High Sierra, he came up with the CITYPAK, a multi-functional backpack designed to help homeless people better survive on the streets.
"I figured that if they're in that position, at least we can give them a way to have a protected and organized way to carry their belongings," Kaplan tells Samaritanmag. "I was fortunate to know the people at High Sierra, which is based just outside of Chicago, and I approached them and they thought the idea was fabulous."
More than 12,500 have been distributed in more than 15 American cities, including Chicago, Boston, Austin, Boulder, Maui, San Jose and Venice, and another 2,500 will be distributed with the help of local partners at various locations in New York City throughout February. Some 80 organizations across North America have made requests and Kaplan aims to start distributing in Toronto, Montreal and Vancouver this fall.
Before the creation of The CITYPAK Project as a non-profit philanthropic organization, Kaplan's SBK Foundation provided all of the initial funding. He had started the foundation in honour of his mother after she passed away 25 years ago, and over the years it has provided help to people in need through the Chicago Coalition for the Homeless, Habitat for Humanities Musicians Village in NOLA, MusicCares, Rock for Kids, Camp Heartland and other groups.
But he wanted a more unique way to give than merely writing cheques and came up with the idea of CITYPAK in 2011, working with the design team from High Sierra on it in early 2012. Their goal was to come up with something that would organize and safeguard precious possessions, guard belongings against theft and protect personal items and the wearer from changing elements. They approached homeless organizations before presenting their first version of the CITYPAK to a focus group of homeless people to get feedback on how it could be improved.
"Organizations have food, toiletries and clothing that's donated, but they never have anything to put it in," says Kaplan. "They're giving it to people in plastic bags or recycled kids' school bags, but those aren't sufficient means to carry the stuff that they're giving to them. So at that point we knew we were on to something."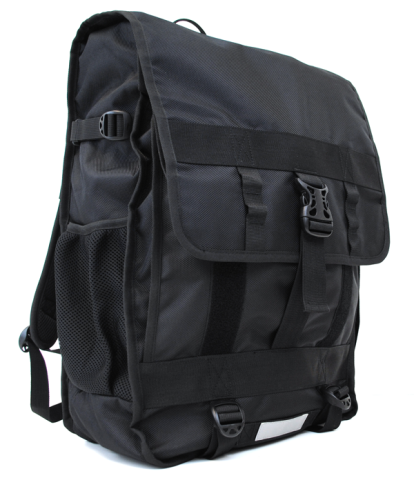 The latest version of the CITYPAK features: a spacious main compartment for a large amount of items; an interior organizer panel; load-bearing shoulder straps; a hide-away poncho designed to keep both the bag and its wearer dry; a ballistic nylon outer shell strong enough to combat the elements; a synch-top closure for extra waterproofing; an oversized water bottle holder; and theft-deterrent loops that connect the pack to its wearer for added security.
The CITYPAK Project encourages its local distribution partners to create programs that use the donated backpacks as incentives for their homeless clients. They use a voucher system that trades program participation for a CITYPAK, thus encouraging homeless in need to more fully engage with organizations and better utilize the resources available to them.
"Giving away backpacks isn't the solution to the complex issue of homelessness facing our country, but it's something we can do to make a small difference for people in this difficult situation," says Kaplan.
CITYPAK Project accepts donations of all amounts; $30 will provide one CITYPAK backpack to someone in need. High Sierra has also introduced the PUBLICPAK, which can be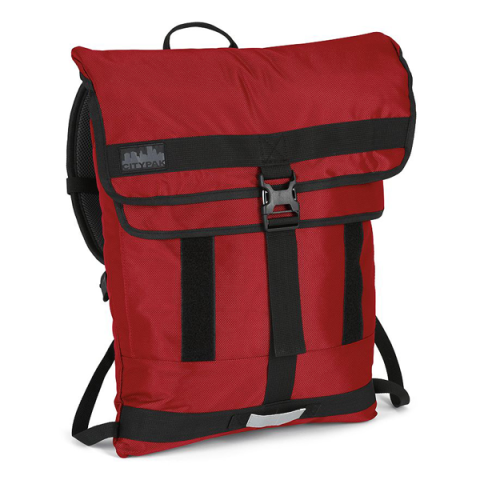 purchased online and through select retail locations. It shares the same basic design as the CITYPAK and is tailored to students and business professionals. An undisclosed percentage of the sale price of each PUBLICPAK goes to The CITYPAK Project to help purchase more backpacks. Just 3,000 PUBLICPAKs were initially made available and, as with the CITYPAK, users have made suggestions that will result in the creation of a more modern and functional bag.
"We know it's a good idea and the feedback has been good, but we know that we need to market it much better and get it into more stores," says Kaplan.
Kaplan is unsure how much money The CITYPAK Project has received, but said much of its outside funding comes from his friends in the music industry. He wants to widen that base and is putting on a publicity push to make more people aware of the project. He's also looking for support from other agencies and organizations so that The SBK Foundation isn't providing such a high proportion of the funding.
"We encourage organizations to split the costs of bringing these bags to their communities through their own fundraising," says Kaplan. "In the beginning we realized that if we keep giving these away without getting anything back, we were going to deplete our chances to grow this."
Nike SB