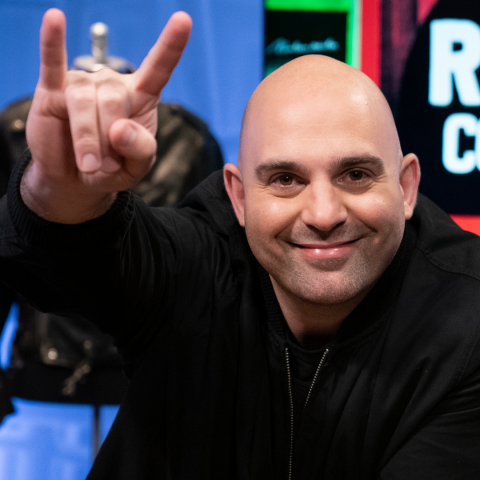 The National Independent Venues Foundation (NIVF) will be the beneficiary of music memorabilia items auctioned through a new AXS TV series called Rock My Collection.
The show, co-hosted by Ahmet Zappa and appraiser Stephen Braitman, debuted on Aug. 15.
Collectors are invited into the Rock My Collection studio each week, either in-person or virtually, to showcase their memorabilia, share their personal acquisition stories, learn more about the history behind each piece, and ultimately find out its potential value.
Viewers are then able to bid on the items via the Rock My Collection website, and the proceeds will be donated to NIVF to assist independent live performance venues, promoters and their employees in the United States who've been impacted by COVID-19 and its related shutdowns.
The tax-exempt organization is focused on providing emergency relief funds, education, community programming, employee training and support, and economic development initiatives, especially in underserved communities. It also supports efforts to enhance diversity, equity and inclusion in the sector.
Among the items people can bid on to support the NIVF on Rock My Collection are:
•    Elvis Presley bank loans;
•    an Italian road map signed by Jimi Hendrix;
•    Tom Petty's scooter;
•    Brian Wilson's driver's licence;
•    pants signed by Alice Cooper;
•    a tennis racquet owned and signed by Gavin Rossdale;
•    a painting by John Mellencamp;
•    a Grand Ole Opry program siged by Taylor Swift;
•    a copy of Yoko Ono's book, Grapefruit, signed by Ono and John Lennon on the day Lennon died;
•    Stevie Nicks' stage-used microphone from Fleetwood Mac's Rumours tour, complete with remnants of her lipstick;
•    hand-written lyrics signed by late Metallica bassist Cliff Burton;
•    a zombie suit from Michael Jackson's "Thriller" music video;
•    a cymbal signed and used by Nirvana;
•    Bob Marley's first 45, released under the name Bobby Martel;
•    and love letters written by Axl Rose.
Zappa is an entrepreneur, author, film and television screenwriter, director, producer, musician, inventor and the host of Rocktails on SiriusXM. He runs the Frank Zappa estate through the Zappa Trust as co-trustee and manages and administers all assets of the trust's business.
Braitman is an accredited senior appraiser who works for MusicAppraisals.com. He specializes in music archives and memorabilia and has worked directly with many artists and estates.