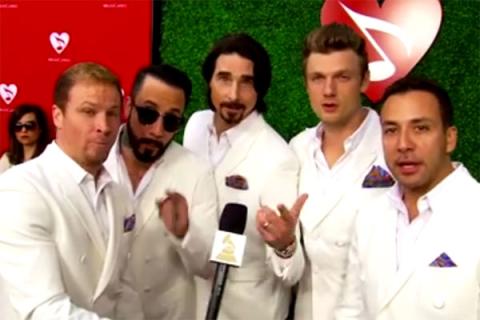 "What's your favourite album?" has been a question that's united and divided music fans for decades. Now, though, answering that difficult query could help the very musicians that made some of those favourite records.
Throughout the month of June the MusiCares Foundation, the charitable arm of the Recording Academy (the people behind the Grammys), have launched the #MusiCaresChallenge to solicit donations for the foundation.
For the #MusiCaresChallenge the foundation is asking artists and fans to post a photo or video of themselves with their favorite album, make a donation to MusiCares, then tag five friends to do the same. So far high profile musicians like Demi Lovato (Beyonce's Lemonade), The Lumineers (The Rolling Stones' Exile On Main St.), and the Backstreet Boys (Boyz II Men's II) have all shared their favourite albums for the cause.
Founded in 1989, MusiCares' goal is to provide a safety net of critical assistance for music people in times of need. Some of the areas where they provide assistance to needy musicians include basic living needs, medical, dental and addiction care, psychotherapy and funeral/burial support. In 2014-15 the organization provided $2,658,203 US ($3,404,007 CDN) in grants to 2,843 clients.
"As the music industry's Red Cross, MusiCares is rooted in the collective spirit of the creative community, whose members have an unspoken bond and self-imposed sense of duty to one another as brothers and sisters in music," said Neil Portnow, President/CEO of MusiCares and The Recording Academy in a press release. "I'm humbled by the gesture made by my longtime friend and comrade, Tom DeSavia, who truly personified the spirit of MusiCares when he took it upon himself to launch this grassroots fundraising campaign in 2014."
The #MusiCaresChallenge continues until July 4.
Watch the Backstreet Boys talk about their favourite album:
nike lunar janoski black and gold swoosh blue