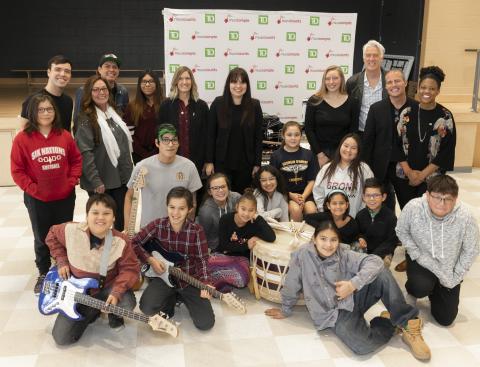 MusiCounts and the TD Bank Group on Wednesday honoured 30 community music programs countrywide that received $500,000 worth of musical instruments and equipment for over 3000 aspiring musicians. Half went to Ontario-based organizations.
Three community groups received funding in Quebec, with two groups each in Alberta, British Columbia, Manitoba, New Brunswick and Yukon, and one each for Saskatchewan and Newfoundland and Labrador receiving support.
The music-focused organzations  ranged in scope from Toronto's The Hammer Band - From Violence to Violins to Guelph's Ball4All Sports Initiatives - Beats, Balls and Rhymes to Charlotte Street Arts Centre - Fredericton Girls Rock Camp.

Canada's music education charity associated with The Canadian Academy of Recording Arts and Sciences,  the organization behind the Juno Awards, made the instrument donations as part of the MusiCounts TD Community Music Program, launched in 2017.
JUNO Award-winning artist Derek Miller hosted a celebration for of the selected organizations, Music for the Spirit, a music learning, singing and playing community program in Ohsweken, Ontario, on the Six Nations Grand River Reserve.
Music for the Spirit is a community project helps young Indigenous people learn about their traditions and heritage as they learn music skills. The Anglican Church of Canada and the Dreamcatcher Charitable Foundation, which provides grants to indigenous peoples and entrepreneurs, had previously supplied music instruments to Music for the Spirit for music learning, singing and playing.
"Music has the power to transform communities and empower the next generation of creative thinkers, musicians and artists," said Kristy Fletcher, executive director of MusiCounts, in a statement. "Thank you to TD Bank Group for supporting MusiCounts and helping us give instruments and equipment to community music programs in need, impacting generations of youth."
The MusiCounts TD Community Music Program provides musical instrument and equipment grants that range from $10,000 to $25,000 to programs at schools and activity centers in underserved communities.
To date, the program has provided over $2.2 million in musical instruments and equipment to 125 programs nationwide.
In 2017, TD Bank Group pledged another $1.87 million to MusiCounts over three years to continue its music instruments program.
"We're thrilled that to date over 15,000 youth have experienced the joy of music through instruments provided by the MusiCounts TD Community Music Program, and we're honoured to be in Ohsweken today celebrating all of the 2018 recipients," Valerie Picher, associate vice president of community relations at the TD Bank Group, said in her own statement.
Community youth and all attendees were invited to join a collaborative song and dance circle to conclude Wednesday's celebration at Music for the Spirit.
"It's really awesome to be a part of Music for the Spirit, mentor the kids, show them something new and give them a jump start into music. Having the instruments from MusiCounts and TD will help the youth continue to develop and it gives the whole community a boost," Derek Miller added.
Since 1997, MusiCounts has donated over $10 million in music instruments and equipment to nearly 1,000 school and community groups across Canada.
MusiCounts' mission is to celebrate "musical excellence and put musical instruments into the hands of kids who need them the most."
The MusiCounts Band Aid program provides up to $15,000 worth of musical instruments to music programs in Canadian elementary, junior high, secondary and separate schools.
Full list of 2018 MusiCounts TD Community Music Program recipients:
 
ALBERTA
Sankofa Arts and Music Foundation (Calgary)
iHuman Youth Society - Music Program (Edmonton)            
 
BRITISH COLUMBIA
Saint James Music Academy (Vancouver) 
Richmond Music School Society - Outreach Violin Classes (Richmond)   
    
MANITOBA
West Broadway Youth Outreach Music Program (Winnipeg) 
Manitoba Conservatory of Music & Arts - Sharing Music! (Winnipeg) 
 
NEW BRUNSWICK
New Brunswick Youth Orchestra - Sistema New Brunswick (Tracadie)
Charlotte Street Arts Centre - Fredericton Girls Rock Camp (Fredericton)   
 
NEWFOUNDLAND & LABRADOR
Choices for Youth Music Program (St. John's)           
 
ONTARIO
Orillia Youth Center (Orillia) 
East Ends Arts - The Music Project Toronto (East York) 
The Hammer Band - From Violence to Violins (Toronto) 
Rainbow Songs Foundation (Toronto) 
Boys and Girls Club of Ottawa Music Studio 
ArtsCanU Circle - Attawapiskat
Music for the Spirit - Ohsweken
Music Society of Chatham Kent - After School Program (Chatham) 
CultureLink Settlement and Community Services - Nai Children's Choir (Toronto) 
The Governing Council of The Salvation Army - North York Temple Corps School of Music (North York) 
The Aeolian Hall Musical Arts Association - El Sistema Aeolian (London) 
Dixon Hall Neighbourhood Services Music School (Toronto) 
Discovery Through the Arts - Youth Advantage Community Outreach (East York) 
Ball4All Sports Initiatives - Beats, Balls and Rhymes (Guelph) 
El Sistema Grey Bruce - The Big Sound (Owen Sound)
 
QUEBEC           
À deux mains / Head & Hands - Jeunesse 2000 Music Studio (Montreal) 
Repaire jeunesse Dawson / Dawson Music Studio (Montreal)
La Ruche Musicale / The Music Hive (Verdun)  
 
SASKATCHEWAN  
The AIM (Ability in Me) Program - Early Learning Programs (Saskatoon) 
 
YUKON
Skookum Jim Friendship Center - Splintered Craft (Whitehorse) 
The Heart of Riverdale Community Centre Society School of Music (Whitehorse) 
Watch a video explaining wht MusiCounts is

(Please support Samaritanmag's original journalism by making a PayPal contribution or EMT transfer using  info@samaritanmag.com so we can increase the amount of content and writers we hire. Samaritanmag is the anti-tabloid, covering good people trying to change bad things. Let's make this thing bigger than TMZ.)
sneakers