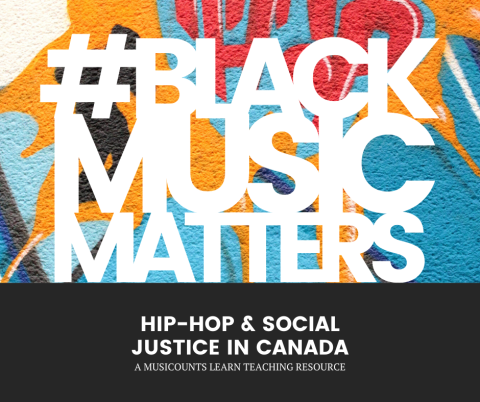 Canadian music education charity MusiCounts, an arm of the Canadian Academy of Recording Arts & Sciences which presents the Juno Awards, has launched a new resource called #BlackMusicMatters: Hip-Hop & Social Justice in Canada.
The listening and inquiry-based resource is designed for teachers with students in grades seven to 12. The aim is to introduce them to Canadian hip-hop artists and their music, while engaging them in critical inquiry in a variety of social justice themes.
The resource is presented by MusiCounts Learn. Ontario secondary school teachers Darren Hamilton and Jon Corbin led its development.
#BlackMusicMatters: Hip-Hop & Social Justice in Canada will be released as a series of four lessons, with plans for English, social sciences, geography, history, visual arts and music classrooms. Each lesson focuses on a song by a Black Canadian artist. The first features "Africville" by Black Union with Maestro and Kaleb Simmonds.
The resource can be used in remote learning scenarios and all lessons will be available on the MusiCounts website.
MusiCounts brought together Black artists and educators to create #BlackMusicMatters: Hip-Hop & Social Justice in Canada in hopes of empowering others to explore Black culture, history and creation, specifically through the lens of hip-hop music.
Hip-hop, like many other forms of Black music, has been historically underrepresented in music classrooms. As a result, Black students haven't been seeing themselves reflected in the music curricula.
Hamilton is a secondary music educator with the Peel District School Board and a doctoral candidate in the University of Toronto's Faculty of Music, with research interests in formal gospel music education and equity, diversity and social justice in music curriculum.
He's written articles about racism and social justice advocacy in music education and launched an integrated arts course at his school called "The Sounds and Sights of HIp-Hop and R&B" that exposes students to the musical analysis, production and performance of these Black musical forms along with their visual arts elements.
Corbin is a secondary English and social science educator with the Halton District School Board who has spent 15 years integrating the study of hip-hop and spoken-word into Ontario classrooms. He's also a hip-hop artist who has released three full-length albums and a dozen musical projects.
Corbin is the host of The Jon Corbin Podcast, a conversational storytelling program on creativity and inspiration. He's developing Spark Rap Coaching, an interactive program that teaches students how to rap.
#BlackMusicMatters: Hip-Hop & Social Justice in Canada was further developed in collaboration with an advisory committee that included:
Dr. Mark Campbell, an assistant professor and associate chair of music and culture at the University of Toronto;
Adrian Khan, a teacher, hip-hop DJ and music producer;
Alicia Mighty, a music teacher for the Peel District School Board;
Carlos Morgan, a recording artist, songwriter and music producer;
Keziah Myers, the executive director of ADVANCE, Canada's Black music business collective;
and Nick Godsoe, MusiCounts' manager of programs and education.
MusiCounts was established in 1997 as a music education charity associated with The Canadian Academy of Recording Arts and Sciences and The JUNO Awards. Its goal is to make music education inclusive, sustainable and accessible for youth across Canada by providing musical instruments, equipment and resources.
MusiCounts Learn creates new and innovative learning resources for teachers and students, while facilitating national dialogue about music education.