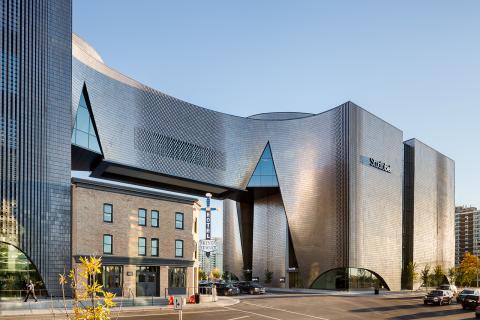 Museum and performance venue National Music Centre (NMC) in Calgary has teamed up with TD Bank to launch OHSOTO'KINO, an initiative to create additional opportunities for Indigenous artists to record music and develop production skills.
"This new program stream is another example of how the National Music Centre is delivering on a national commitment to reconciliation through music," said NMC president and CEO Andrew Mosker in a statement.
"As Canada's home for music, NMC recognizes that the music of Indigenous artists is a critical verse in Canada's song. With TD's generous support, we hope to propel the careers of Indigenous artists by creating opportunities and offering a platform to share their musical traditions and diverse perspectives."
OHSOTO'KINO is Blackfoot phrase which means 'to recognize a voice of.' The NMC resides on Blackfoot territory.
TD already supports NMC's Speak Up! annual exhibition at Studio Bell — highlighting Indigenous artists making social and political impacts across Canada, such as Buffy Sainte-Marie and Tanya Tagaq — and OHSOTO'KINO is another indicator of the financial institution's commitment.
"TD shares NMC's vision of amplifying Indigenous voices and sharing their stories to educate and encourage positive change," said Robert Ghazal, TD senior vice president for branch banking in the Prairie Region, in a statement.
"We know that music has the power to inspire, connect and enlighten our communities. That's why the OHSOTO-KINO initiative is important for developing Indigenous artists and creating music that can help unite communities and foster reconciliation among Canadians. It's also a critical way to introduce Canadians to the next generation of talented musicians from Indigenous communities."
The OHSOTO'KINO program takes a three-pronged approach to increasing opportunities for Indigenous artists; recording of new music using NMC's studios, artist development through an incubator program, and exhibitions through the annual Speak Up! gallery.
The NMC will provide Indigenous artists with access to world-class recording studios and musical instruments through their OHSOTO'KINO recording bursary. The NMC's Indigenous Programming Advisory Committee will select one contemporary and one traditional music application for a one-week recording session at Studio Bell and later, a proper commercial release.
As well as recording assistance, the NMC will start sending out applications for the OHSOTO'KINO Indigenous Music Incubator. The week-long course will provide training and career guidance from Indigenous music leaders on how to grow their fanbase and brand themselves.
Applications are open now at studiobell.ca/ohsotokino. The bursary application deadline is Feb. 23, 2022, at 11:59 pm MT. The grant is open to any First Nations, Métis, and Inuit artists.
"The OHSOTO'KINO initiative acknowledges and recognizes the immense contributions of Indigenous communities to our country through music," said David McLeod (member of the Pine Creek First Nation in Treaty 1), co-chair of NMC's National Indigenous Programming Advisory Committee.  "Through it, we hope to inspire and instigate dialogue, understanding, and progress in our society, and to expand horizons for Indigenous music in Canada."
The next group of Indigenous artists to be part of the Speak Up! exhibit will be announced in the days leading up to National Indigenous Peoples Day on June 21, 2022.