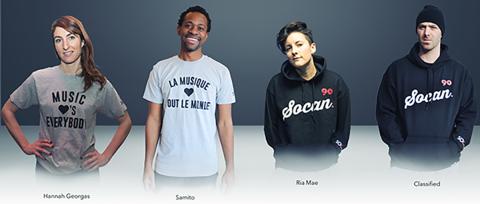 "Music ♥'s Everybody" is the message being delivered by a new line of clothing created by the Society of Composers, Authors and Music Publishers of Canada (SOCAN), Canada's non-profit performing rights organization, to support the Unison Benevolent Fund.

The new line was recently unveiled on the Kill The 8 merchandise site and features a selection of t-shirts and hoodies in simple black, red or grey featuring the slogan "Music ♥'s Everybody" or its French equivalent "La Musique ♥ Tout Le Monde." T-shirts sell for $25 and the hoodies for $45. Also available are "SOCAN 90" branded items which throwback to 1990, the year the rights collecting organization was launched.
All proceeds from these sales will go towards Unison Benevolent Fund, a non-profit organization that provides counselling, emergency relief, and benefit programs for those in the Canadian music community who face personal or professional challenges due to hardship, illness, or economic difficulties.
"SOCAN is giving us backing off their shirts," said Sheila Hamilton, executive director of Unison Benevolent Fund, in a release. "Contributing all proceeds from sales of their cool merchandise to Unison means that more musicians who might be struggling with health or financial needs will be able to get by."
At SOCAN they hope the universality of their message will result in help for in-need music people.
"Music is unconditional in its love," said Andrew Berthoff, SOCAN chief communications and marketing officer. " Music ♥'s Everybody is a universal message that we hope all people, regardless of their musical preferences, will want to show off, while helping musicians and music industry professionals in need."
Canadian artists and SOCAN members Hannah Georgas, Samito, Ria Mae and Classified were among the acts who've sported Music ♥'s Everybody gear thus far.
"I hope my fans and all fans of music get these cool clothes on for a great cause," said Mae, whose song "Clothes Off" was nominated for single of the year at the 2016 Juno Awards.
SOCAN is promising more clothing designs and varieties in the future.
Nike Air Max 270 Black Gold Shoes Best Price AH8050-007 – Buy Best Price Adidas&Nike Sport Sneakers