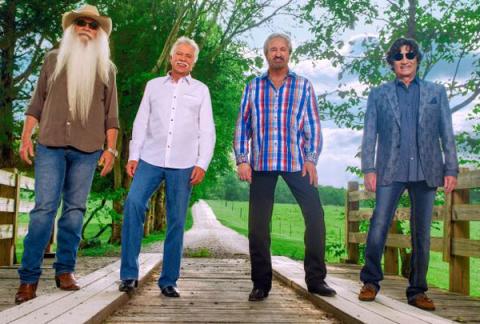 Country music veterans the Oak Ridge Boys are lending their harmonic voices to fighting elder fraud abuse.
The band, which has been active since 1947, has teamed up with the American Department of Justice and AARP, formerly the American Association of Retired Persons, for an awareness campaign on the dangers of elder fraud.
A key part of the campaign will involved directing people to the AARP Fraud Watch Network. The AARP has an extensive website outlining the various ways in which older adults can be taken advantage of financially, including through identity theft, compromising online banking accounts and other common scams. The site provides tools like the best ways to protect online passwords, tips on "free" offers to be wary of, and also features a free helpline to call if you or a loved one suspect a scam.
The Department of Justice estimates at least 10 per cent of older Americans experience some form of elder abuse each year, be it financial fraud, scams and exploitation, caregiver neglect and abandonment, psychological abuse, physical abuse and sexual abuse.
"The Oak Ridge Boys are honored to bring awareness to elder fraud and abuse," said Duane Allen of the Oak Ridge Boys, in a statement. "For too long people have taken advantage of our senior citizens, and we are teaming up with the Department of Justice and the AARP Fraud Watch Network to help you and your loved ones stay safe from scammers."
"So happy to see the Department of Justice and AARP stepping up to address this problem of elder fraud abuse," added Joe Bonsall of the Oak Ridge Boys. "We are honored to be stepping up with you. Everyone is susceptible via phone or online, but the elderly are often the targets and victims of identity thieves and scammers. The Oak Ridge Boys are honored to lend our name and image to this worthy cause."
The Department of Justice estimates billions of dollars are lost each year in instances of elder fraud.
"Fraudsters are targeting and stealing billions of dollars from unsuspecting Americans every year. In order to fight this epidemic, Americans must report fraud schemes and spread the word among their families and friends," said Assistant Attorney General Jody Hunt of the Department of Justice's Civil Division, in a statement. "I want to thank AARP's Fraud Watch Network and the Oak Ridge Boys for working with us to fight this critical issue. Through increased awareness and reporting, the Department of Justice can continue to take swift action to end the victimization of vulnerable elderly Americans across the country."
Formed in 1958, the AARP's mission is to "empower people to choose how they live as they age." With 38 million members, the AARP advocates for persons over the age of 50 at the local, state and federal level in areas such as affordable health care, long-term care, financial and social security and community housing and support.
Best known for the 1980s hits "Elvira" and "Bobbie Sue," the Oak Ridge Boys were a mostly gospel act until the 1970s when they changed their sound and style towards country music. Although the band has had numerous members throughout the decades, four men — William Lee Golden, Duane Allen, Richard Sterban and Joe Bonsall have been the core of the group almost consistently since 1973.
Watch the Oak Ridge Boys' anti-fraud video
Nike Release Dates