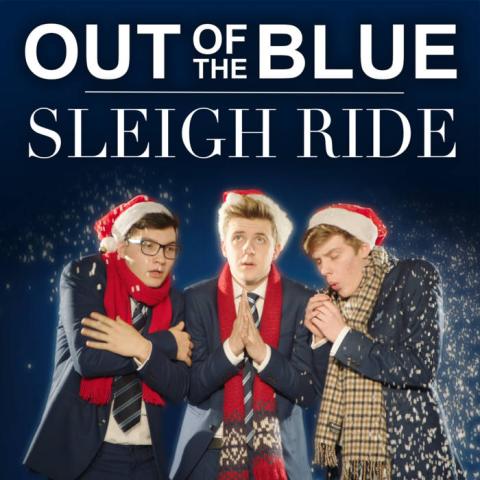 Out of the Blue, the highly regarded male a cappella group from Oxford University which reached the semi-finals on the 2011 edition of Britain's Got Talent, have released a new video on YouTube and charity song on Bandcamp for the holidays.
"Sleigh Ride, " composed by Leroy Anderson and arranged by Will Smith, is a fun festive frolic that the group is hoping will go viral and help raise more money for the Oxford-based Helen & Douglas House, which relies heavily on public donations to survive.
According to the Helen & Douglas House web site, 
"Without your support we cannot provide what we do now - from in-house hospice care to outreach nursing, family support (pre and post bereavement), the sibling support club, and the range of experiences and opportunities that help our young patients and their families make the most of a short life."
The soloists on "Sleigh Ride" are Ifan Jenkin, Oscar Lyons, Ollie Brophy, Harry O'Neill, Will Northcott, Alex Ohlsson, Will Smith, JJ Gibbs, Samuel Swinnerton, Sam Harris, Francis Judd, and Sean Bracebridge. The long-running group obviously features a revolving door of members as students graduate.
The vocal group's previous videos have accumulated over 15 million views and include covers of Mariah Carey's "All I Want For Christmas" (2.7M); Eartha Kitt's "Santa Baby" and Shakira's "Hips Don't Lie" (6.7M), which have raised £100,000 ($166,000 CAD) for the charity, known as the world's first children's hospice, which offers palliative care for children and young adults with life-limiting illnesses.
Watch 'Sleigh Ride' here and you can download the charity single for a minimum donation of £1 ($1.66 CAD) at ootboxford.bandcamp.com.
They've been called "a cappella royalty" by The Daily Telegraph and appear regularly at the Edinburgh Fringe Festival.
Adidas Yeezy Boost SPLY - 350 V2 OFF-WHITE white men shoes