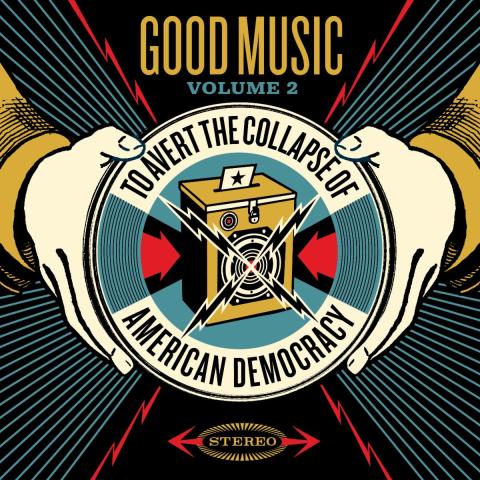 Good Music to Avert the Collapse of American Democracy Volume 2, a compilation of 77 previously unreleased recordings from a wide variety of artists, will be available for just 24 hours via Bandcamp, starting at 12:01 a.m. on Oct. 2.
Pearl Jam, David Byrne, The Postal Service, Black Pumas, Cold War Kids, Guided By Voices, Big Boi and Sleepy Brown, Yeah Yeah Yeahs, Chicano Batman, John Prine, Margo Price, My Morning Jacket, Old 97's, Phoenix, Feist, Yola, Sturgill Simpson, Arcade Fire, The Gossip, Jason Isbell & The 400 Unit, Bob Mould, Jenny Lewis, Nada Surf, Surfer Blood, Tenacious D, Jack Johnson, The War On Drugs, Bright Eyes, Fleet Foxes and Charly Bliss are among the acts that contributed to the project.
The album is being sold as part of the Bandcamp Fridays initiative that was started in March to support artists and record labels impacted by the COVID-19 pandemic through Bandcamp waiving its revenue share from sales on its website. Bandcamp Fridays will continue on the first Friday of every month until the end of the year.
For Good Music to Avert the Collapse of American Democracy Volume 2, all of the net proceeds from its sale will be donated to Voting Rights Lab, a non-partisan organization that brings state advocacy, policy and legislative expertise to the fight for voting rights. Voting Rights Lab works in partnership with organizations across the United States to secure, protect and defend the voting rights of Americans.
This second edition of the compilation follows the original version that was released last month and raised more than $250,000 for Fair Fight and Color of Change. 
Fair Fight promotes fair elections, encourages voter participation and educates voters about elections and their voting rights. It contributes to public awareness of election reform and advocates for it at all levels.
Color of Change is an online racial justice organization that designs campaigns to try and end practices that unfairly hold black people back and champions solutions to move them forward.
Good Music to Avert the Collapse of American Democracy Volume 2's organizers are author Dave Eggers, Barsuk Records label head Josh Rosenfeld and artist managers Jordan Kurland, Darius Zelkha and Christian Stavros.
"When over $250,000 was raised for the first compilation — in one day — we were floored and it spurred us to do another," Eggers said in a media release. "We thought we'd get twenty musicians, tops, for this second one, but in about ten days, 77 bands and singers came through. 
"It was a flood. Every day, the urgency of this election becomes clearer, so we're trying to send as much money into voter access as we can. The compilation is a bit of concentrated hope."
"We could have included 200 artists, that's how united the music community is around the fight for voting rights," added Kurland. "We are so inspired to have this incredible collection of artists in an effort to raise money in support of the important work that Voting Rights Lab is doing."
The compilation features cover art by Shepard Fairey.
A special, limited edition signed poster by filmmaker Sofia Coppola will also be sold on the Good Music to Avert the Collapse of American Democracy Volume 2 Bandcamp page to benefit Voting Rights Lab on Oct. 2.
Good Music to Avert the Collapse of American Democracy Volume 2 is the fourth fundraising project around a presidential election spearheaded by Eggers and Kurland, following 2004's The Future Dictionary of America, 2012's 90 Days, 90 Reasons and 2016's 30 Songs, 30 Days.
Men Nike Footwear