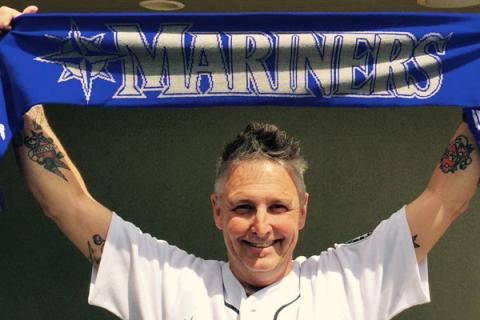 Pearl Jam guitarist Mike McCready will perform the U.S. national anthem at a Seattle Mariners baseball game on Sept. 16 to support the Crohn's and Colitis Foundation.
Crohn's and Colitis Foundation is a non-profit, volunteer-driven organization with the goal of finding a cure for Crohn's Disease and ulcerative colitis. Some of the ways Crohn's and Colitis Foundation helps include funding research, conducting professional education and training, and providing patient support programs. These inflammatory bowel diseases (IBDs) affect an estimated 1.6 million Americans.
McCready's performance of the "Star-Spangled Banner" is part of the annual Crohn's & Colitis Awareness Night at Safeco Field. The Mariners take on the Houston Astros that night. The Mariners will donate $5 from every View level and $7 from every Main level ticket purchased using the special Crohn's Foundation Night promotional link. As a special bonus, fans who purchase tickets using the link will receive a Mariners scarf that features a silhouette of McCready with his guitar.
McCready, now 51, was diagnosed at age 21 with inflammatory bowel disease.
"I'm very honored to be able to do the Star-Spangled Banner at a Mariners game because I'm a big fan and we have season tickets there and I know that they don't take that lightly, and it's generally done a certain way," said McCready in a press statement. "It's good to know that the Mariners organization trusts me enough to be able to do it and know that it's done for the reasoning of raising awareness of Crohn's and colitis."
The involvement of a world class rock star like McCready has helped bring awareness about IBD issues.
"His involvement has helped us raise funds, raise awareness, it helps bring in a lot of people as well. So every opportunity we have to raise more awareness about what Crohn's and colitis are, as well as what the organization can do for people with Crohn's and colitis, is a big win for us," said Jennifer O'Connor, the executive director of the Crohn's & Colitis Foundation's northwest chapter.
According to O'Connor, the Crohn's and Colitis Foundation will spend $30 million USD ($37.51 million CAD) in 2017 towards finding new IBD treatments and cures.
This won't be the first time McCready has played the anthem in front of a Mariners audience. He also did so in 2009.
Watch Mike McCready perform the Star-Spangled Banner in 2009
/Nike_7_1