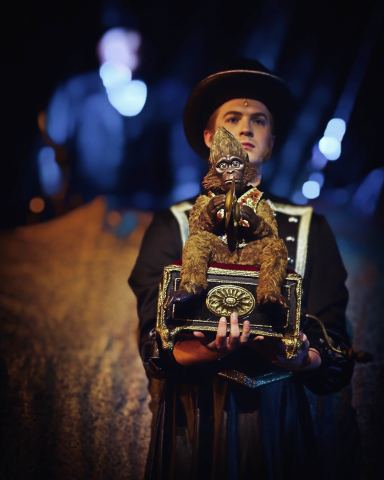 An online auction to benefit The Actors Fund, which has provided more than U.S.$20 million in emergency financial assistance to more than 15,800 people who work in performing arts and entertainment over the past 13 months, will begin at 10 a.m. ET on April 28.
A variety of memorabilia items from the worlds of theatre, movies, opera, dance, visual art, music, costume design, photography and more will be up for bids through Doyle Auctioneers & Appraisers.
Among the items available in the Stage & Screen Auction are:
admission for two to the reopening Broadway performance of Phantom of the Opera as Andrew Lloyd Webber's guests, as well as the "Lot 665" prop from the production;
three gowns worn by actress Christine Baranski at the Golden Globe Awards, Emmy Awards and Kennedy Center Honors event;
the Golden Globe awarded to Celeste Holm in 1947 for Gentlemen's Agreement;
Hollywood and theatre memorabilia from the Celeste Holm Collection;
Broadway costume and set designs from the estate of Thomas P. Lacy;
a Wolverine jacket from Hugh Jackman's closet;
boots, jeans and a T-shirt from Bruce Springsteen;
a black sequin gown worn by Bette Midler;
a banjo signed by Steve Martin;
glasses from Elton John;
Bob Mackie-designed dresses from Carol Burnett;
a Dolce & Gabbana dress worn by Glenn Close on the red carpet for the opening night of Sunset Boulevard;
the leather suit that Alan Cumming wore to the Tony Awards when he won the Best Actor in a Musical Award in 1998 for Cabaret;
a collection of signed books from Julie Andrews;
an Oscar de la Renta gown worn by Renée Fleming to sing at the Diamond Jubilee Concert for Queen Elizabeth II in 2012 on the balcony of Buckingham Palace;
a limited-edition leather-bound copy of the screenplay of Downton Abbey signed by the director, writer, producer and cast members;
show-worn leather jackets from The Good Wife;
Lin-Manuel Miranda's autographed stage-worn boots from Hamilton: An American Musical;
a custom-designed beaded dress worn by Dolly Parton at the 2019 CMA Awards;
the designer green dress and shoes worn by Meryl Streep to the Screen Actors Guild Awards in 2020, along with her program and ticket from the event;
a jumpsuit worn in the Broadway production of Mamma Mia!;
a pair of blue heels covered with Swarovski crystals and signed by Cher;
and the dress worn by Tina Fey to the 2013 Emmy Awards when she won the Outstanding Writing for a Comedy Series Award for 30 Rock.
Donations can also be made directly to The Actors Fund to support programs that foster stability and resiliency and serve as a safety net to everyone involved with performing arts and entertainment. COVID-19 has largely shut down live entertainment for more than a year, and money donated to The Actors Fund will help the most vulnerable people in the field cover such basic living expenses as food, essential medications and utilities.
The Actors Fund was founded in 1882 and has offices in New York, Los Angeles and Chicago that serve people in film, theatre, television, music, opera, radio and dance with programs including social services, emergency financial assistance, healthcare and insurance counselling, housing, and secondary employment and training services.