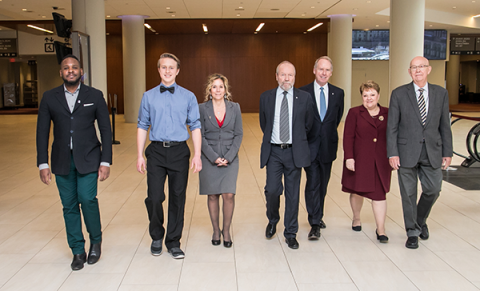 From a teenager who collected and donated more than 10 million pennies to the enormously philanthropic Daniels and Slaight families, there was plenty of inspiration to make a difference at the Metro Toronto Convention Centre during the 23nd annual Philanthropy Awards.
Hosted by the Greater Toronto chapter of the Association of Fundraising Professionals (AFP), the largest in the world with over 1,300 members, awards were presented Nov. 22 to eight area individuals and organizations "for their dedication and generosity towards the arts, healthcare, education and human rights" during a luncheon attended by some 1,000 movers and shakers in the GTA charitable space and beyond.
The event, hosted by CBC television personality Dwight Drummond, recognized everything from lifetime achievement to excellence in fundraising for a small organization. Of note to Samaritanmag readers: the Slaight Family Foundation, which helps funds this online magazine and has donated tens of millions of dollars to health care institutions, social services, culture and arts, was recognized as Outstanding Foundation.
The other awards were:   
Outstanding Philanthropists: John and Myrna Daniels of builders Daniels Homes, which has also donated tens of millions of dollars to the arts, cultures, education and employment;
Outstanding Volunteer: Bill Downe, who recently retired as CEO of BMO Financial Group, where he motivated 15,000 employees to fundraise for United Way;
Outstanding Corporation Genworth Canada, which provides mortgage default insurance to Canadian residential mortgage lenders, making homeownership more accessible to first-time homebuyers; 
Outstanding Fundraising Professional Ingrid Perry, president & CEO of Mackenzie Health Foundation, which has been at the vanguard of healthcare in Ontario; 
Mo Davies Small Organization for Excellence in Fundraising Rainbow Railroad, which rescues and relocates LGBTQ individuals in danger; 
Outstanding Youth in Philanthropy Josh Morrison who raised over $100,000 to assist Habitat for Humanity in building a house for a needy family; 
Lifetime Achievement Award recipient Jim Hilborn whose Canadian FundRaiser newsletter (established in 1991) and the Charity Village website which he co-founded changed the Canadian fundraising landscape.
The good deeds of all the honourees were showcased during video presentations screened throughout the luncheon. The common denominator: a sincere and tireless commitment to improving the community, something the AFP Greater Toronto chapter has celebrated through its annual awards program since 1995.
"This event today marks the conclusion of a three-day conference that brought together over 1,000 delegates to discuss the future of sharing and caring in Canada and around the world," AFP president Krishan Mehta said in opening remarks, referencing Congress 2017, the Greater Toronto chapter's annual conference. Mehta noted that there were three overarching goals for the gathering.
"First, we wanted to give charity leaders that important shot of inspiration, so they will leave with a renewed sense of energy to continue tackling the burning issues back home. Second, we wanted to create a forum where charity leaders could openly share how they are integrating innovative approaches to giving in their everyday work.
"And finally," Mehta said, "We wanted to pay critical attention to the ways in which inclusion and demographic shifts are opening up new frontiers for emerging donor groups and challenging what we believe to be tried and true fundraising best practices."
Josh Morrison, recipient of the Outstanding Youth in Philanthropy honour, handily represented the future of innovative fundraising. Starting in 2013 at age 11, Morrison began collecting pennies — a staggering 10 million in all, totalling $100,000 — for Habitat for Humanity to build a home for a needy family in Durham region. Four years and many donations later (including $18,000 given anonymously), Morrison exceeded his goal, raising $124,000.
"I am very excited to get this award because Habitat for Humanity nominated me secretly, and I didn't find out about it until recently. The recognition and encouragement is really great," the now 15-year-old Morrison told Samaritanmag ahead of the luncheon.
Morrison explained that his original inspiration came from Kemptville, ON's Ryan Hreljac who, as a first-grader in 1999, raised enough money to build a clean-water well at Angolo Primary School in Uganda. Today, the Ryan's Well Foundation helps bring access to safe water and sanitation across the developing world.
Morrison continued: "Ryan's Well Foundation really inspired me to do something, but I wasn't sure what. The answer came two years later when I was in ReStore with my dad (second-hand furniture shops run by Habitat for Humanity). I saw that they were trying to raise money to build a house for a low-income family in Oshawa. Right there I knew I had to help with that. It went from there. I didn't really know what $100,000 was," Morrison laughs, "but I knew it was a goal I wanted to succeed in."
"So many critically important initiatives simply would not happen without the generosity of donors and passionate volunteers," AFP Awards Selection Committee Chair Ken Mayhew noted at the event. "This year's award winners stand as a testament to that and their efforts, combined with the strength of the fundraising professionals and organizations who support them, ultimately make our world a better place in which to live."
Rainbow Railroad, which netted the Mo Davies Small Organization for Excellence in Fundraising, illustrated an org's ability to help on a global scale. Inspired by the famous Underground Railroad, which ferried slaves out of the U.S. and into Canada in the early-to-mid 19th century, Rainbow Railroad helps LGBTQI individuals facing persecution (or worse) in nations with anti-homosexuality laws from Iran to Nigeria find safe passage and resettlement in more liberal nations like Canada.
And the need is exploding, according to Rainbow Railroad executive director Kimahli Powell.
"The challenge for us is how to we maintain our organization as we face increased demand," Powell told Samaritanmag. "This is year one of a three-year strategic plan and our goal was to get 100 people to safety now and 170 by year three. We've already hit 180 individuals from 14 countries this year. So how do we adapt in the face of so much growth so quickly? That's what 2018 is going to be about for us: cementing our organization as a Toronto-based, Canadian charity that is international in scope."
In remarks from the stage at the luncheon, Ingrid Perry — a third-generation campaigner fêted with Outstanding Fundraising Professional honours — summed the day up nicely.
"As I look around the room, I see some pretty talented people that have given from themselves to enhance the fabric of our community and our great nation," Perry said. "On behalf of today's recipients, I want to express our appreciation to our nominators, to the charities with work with and volunteer for, and to everyone for their support for serving in this wonderful sector.
"These are truly special honours, and each of us is deeply humbled and grateful for the trust you have put in us. You can see we have true passion for what we do each and every day."
『アディダス』に分類された記事一覧