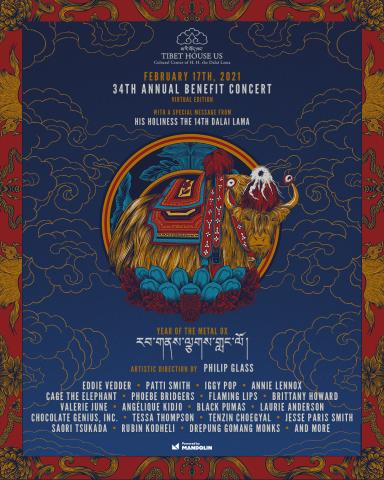 A wide array of performers will take part in the 34th annual Tibet House US benefit concert on Feb. 17 to support the non-profit educational institution and cultural embassy that aims to ensure the survival of Tibet's unique cultural and spiritual heritage.
Philip Glass is the artistic director for the concert and curated its lineup, which will feature appearances by Annie Lennox, Cage The Elephant, Black Pumas, Eddie Vedder, Patti Smith, Iggy Pop, The Flaming Lips, Phoebe Bridgers, Brittany Howard, Valerie June, Angélique Kidjo, Laurie Anderson, Chocolate Genius Inc., Tessa Thompson, Tenzin Choegyal, Jesse Paris Smith, Rubin Kodheli and Saori Tsukada.
There will also be a personal video message from the 14th Dalai Lama and an archival piece of footage featuring Glass and Allen Ginsberg performing "Wichita Vortex."
The concert will take place virtually for the first time due to COVID-19 precautions after 33 years of being held at New York City's Carnegie Hall. The live stream will be presented and co-produced by digital platform Mandolin, which previously produced the 40th annual John Lennon Tribute, the Voice Your Vote benefit and events at The Ryman Auditorium in Nashville and City Winery in New York City.
There are a variety of ticket options — ranging in price from $25 to $250, as well as $5,000 (all amounts in U.S. dollars) sponsor-level cyber-tables — for the 8 p.m. EST show on Feb. 17 that can be purchased here. All proceeds will benefit Tibet House US.
Past participants in Tibet House US benefit concerts include Alabama Shakes, Carly Simon, David Bowie, Stephen Colbert, Lou Reed, Sharon Jones, FKA twigs, The Roots, Jim James, Vampire Weekend, St. Paul and the Broken Bones, Blood Orange, Sigur Ros, R.E.M., Emmylou Harris, Jon Batiste, Nathaniel Rateliff and Jason Isbell.
New York City-based Tibet House US was founded in 1987 at the request of the 14th Dalai Lama to expose and share aspects of Tibetan civilization through educational and cultural programs and events that promote the protection of its arts, sciences and ways of living.
Tibet is located on the northern side of the Himalaya Mountains and recognized as the highest region on Earth. It was officially formed in 1642 as a spiritual nation that supported Buddhist education and was economically self-sufficient. Tibet shares borders with China, India, Nepal, Bhutan and Myanmar.
The People's Liberation Army of the People's Republic of China invaded Tibet in 1949. The 14th Dalai Lama escaped 10 years later and established a democratic government-in-exile in Dharamsala, India. He received the Nobel Peace Prize in 1989 for his long-term efforts to peacefully resolve the Tibetan plight.
Tibet historically consisted of three provinces: U-Tsang, Kham and Amdo. China annexed Amdo and most of Kham, incorporating the land into bordering Chinese provinces. The remaining area has been renamed the "Tibet Autonomous Region" and is the only area that China officially refers to as Tibet.
Approximately 6,250 Tibetan monasteries were destroyed by 1969. Some were rebuilt and re-opened in the 1980s, but Chinese authorities tightly control activities in them. Strict regulations require an oath of allegiance to communist ideals and devotion to, and even photographs of, the Dalai Lama are banned.
Prisons and labour camps are among the most common methods of persecution of Tibetans, and Chinese military installations have been built across the region in an effort to prevent people from leaving. More than eight million Chinese have settled in Tibet, which further threatens to overwhelm the remaining six million Tibetans and their distinct ancient Buddhist culture.