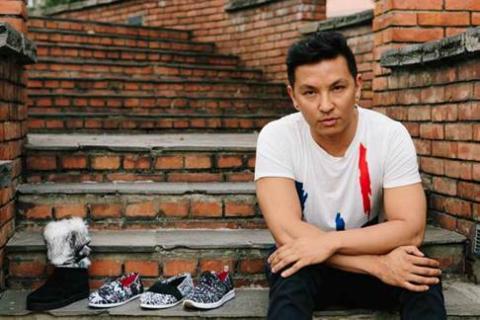 TOMS, the not for profit company that gives a pair of shoes to a needy child for every pair it sells, has teamed with Nepalese fashion designer Prabal Gurung, whose dresses have been worn by Michelle Obama, Oprah Winfrey and Kate Middleton. He has created two styles of women's footwear exclusively for TOMS to raise funds his still-recovering homeland.
"What excites me about collaborating with TOMS is our shared belief in inspiring others and giving back. We're coming together to make a difference in the world with what we do," said Gurung in a press statement.
Nepal experienced a deadly earthquake in April, 2015, that killed nearly 9000 people and injured nearly 22,000.
inspired by his homeland, Gurung created the classic Alpargata, a slip-on walking shoe in red, white and black, which sells for $70; and a traditional-style Nepal Boot in black suede and faux fur which goes for $150.  Now, besides giving a child a new pair of shoes, for each pair of TOMS x Parabal Gurung shoes purchased, TOMS will also donate $5 to the Shikshaya Foundation Nepal.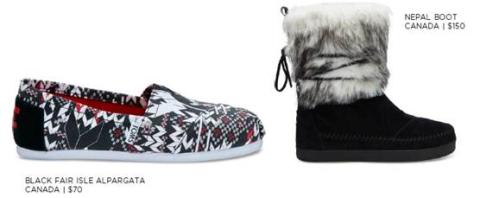 "In response to the devastating earthquake in Nepal, we have decided to mobilize a full-time team to raise and distribute relief funds where they are needed most on the ground in Nepal," it states on the Foundation's web site. "A portion of the donations we receive will go towards immediate disaster relief and the remaining funds will go towards long-term sustainable rebuilding efforts."
The Shikshya Foundation Nepal original mission is "to oversee and facilitate the education of children in need from primary school through secondary school and higher education."
TOMS has committed to a minimum donation of $20,000 to the Foundation.
Gurung was born in Singapore to Nepalese parents, raised in Napal, educated in India and now resides in New York. A one-time intern for Donna Karan and former design director for Bill Blass, Gurung launched his own eponymous label in 2009. Since then his dresses have been worn by such well-known faces as Michelle Obama, Oprah Winfrey, Kate Middleton and Jennifer Lawrence.
TOMS was founded by Texan Blake Mycoskie in 2006 with the intention of giving away "one for one" shoes to needy children. They have since expanded to selling eyewear and providing eye care for children in developing countries for each pair sold and TOMS also sells roasted coffee with matching donations to provide clean water for those who need it.
According to Mycoskie's bio on the company website: "TOMS Shoes has provided over 60 million pairs of shoes to children since 2006, TOMS Eyewear has restored sight to over 400,000 since 2011 and TOMS Roasting Company has helped provide over 335,000 weeks of safe water since launching in 2014. In 2015, TOMS Bag Collection was founded with the mission to help provide training for skilled birth attendants and distribute birth kits containing items that help a woman safely deliver her baby. As of 2016, TOMS has supported safe birth services for over 25,000 mothers."
Air Jordan 11 Retro black varsity red white.Nike Air Jordan 11 (XI) Retro Black / Varsity Red - White, Price: $71.99 - Air Jordan Shoes