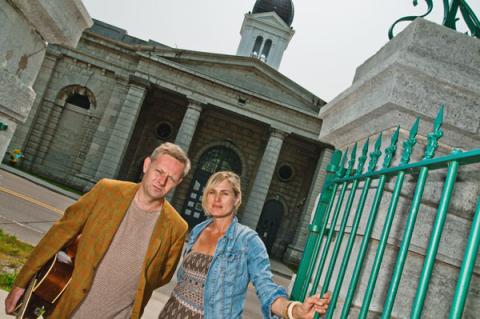 The Pros And Cons Music Mentoring Program is going to be making a lot more noise thanks to a $25,000 grant from the David Rockefeller Fund.
The added funds will be used to expand the Pros And Cons program begun by musician Hugh Christopher Brown in 2011.
"The David Rockefeller Fund is pleased to support the Pros and Cons Project," Michael Quattrone, chair of the David Rockefeller, said in a release. "Hugh Christopher Brown is an artist who understands the power of music and mentorship to transform lives. We especially admire his passionate commitment to bring that healing force to those who need it most. Pros and Cons has the potential to be a standing government program at a far greater scale."
Pros And Cons was started Brown at Kingston, Ontario's Pittsburgh Institution after that prison's rehabilitative farming/agricultural program was closed down by the federal government. Brown is better known in music circles as one-half of the musical duo Chris Brown and Kate Fenner and as a core member of 1990's alt-rock band Bourbon Taberacle Choir, who counted The Tragically Hip as contemporaries and also featured Broken Social Scene's Andrew Whiteman as a member. After expressing interest in working on music with inmates to the prison's chaplain at the time, Kate Johnson, Pros And Cons developed into a bi-weekly program were inmates were encouraged to sing, write music, learn production, arrangement, recording and engineering skills. Joining Brown to help out at recording sessions were fellow musicians like Fenner, Luther Wright, Sarah McDermott (Openhearts Society), Pete Bowers (Gertrudes) and Juno Award-winning singer Sarah Harmer.
Brown said he is "so proud that the art of all the participants over the last five years is having such profound effect on their own lives, and now stands as an example to help so many others. The practice of restorative justice lowers crime and recidivism rates, reduces violence and promotes mental health in prisons. It also prepares convicts for integration into society upon release."
In 2014 the inmates who participated in Pros And Cons would release — anonymously, out of respect to the victims of their past crimes — the Postcards From The County album as a free or pay-what-you-can download. All proceeds from the album went towards charities towards Candace House, the Joe Chithalen Memorial Musical Instrument Lending Library and the Kingston Food Bank.
With the funds granted by the David Rockefeller Fund, Brown is able to continue to spend time mentoring, collaborating and producing more music with the men at Pittsburgh Institution, as well as acquire gear for the expansion of the program into other institutions, with aims of growing it to a national level. While developing greater awareness for this evolving music rehabilitation program, Chris is committed to inspire other musicians to help expand and bring the Pros and Cons program to institutions across Canada.  
One of Brown's goals with the Pros And Cons program is to give inmates hope of living a better life. In at least one instance that has worked.
"In my 11 years inside the Federal Prison system, I have never seen anything touch the hearts and souls of so many," added Lloyd Ingraham, a parolee who had been through the program. "It was with the power of music that Chris was able to reach out to the guys. The music drew them out and sometimes it took a lot of encouragement to convince them to get involved. But to see the look on a man's face as he listens to himself for the first time on tape and realize this is an accomplishment and he is capable of doing more than he ever thought he could, gave the guys a new sense of purpose that brought them out of the darkness that had been in their life for so long."
Watch Hugh Christopher Brown discuss music and life beyond punishment
Air Jordan 11 Retro black varsity red white.Nike Air Jordan 11 (XI) Retro Black / Varsity Red - White, Price: $71.99 - Air Jordan Shoes