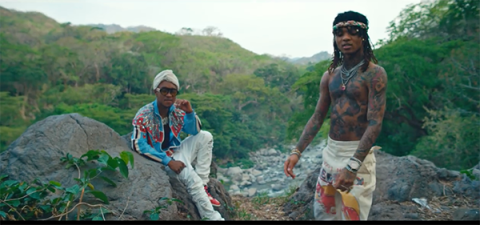 Rap group Rae Sremmurd are using their new music video "Guatemala" to help support the country the song inspired after the Fuego Volcano erupted on June 3, causing the deaths of 62 people and affecting approximately 1.7 million people in its vicinity.
The recent explosion is the largest from the active volcano since 1974. A lahar (a mixture of mud, rock and pyroclastic material) unexpectedly shifted direction and engulfed local villages of El Rodeo, Las Lajas, San Miguel Los Lotes, and La Reunión. In addition to the deaths these flows caused, 12,089 people have been evacuated from their homes.
A message accompanying the video says Rae Sremmurd and the Interscope and EarDruma record labels have teamed up to donate $10,000 USD ($13,300 CAD) to
Red Cross
relief efforts to support Guatemala and are encouraging their supporters to donate money as well.
The group, which includes brothers Slim Jxmmi and Swae Lee, shot the video in the Central American country a month before Fuego erupted. In it the pair are seen dancing around at numerous scenic locations in the country while interacting with children and dancing around with various women.
"We shot this video a month before the tragic volcano eruption in Guatemala. Our hearts are with all those affected by this terrible disaster," said the band on
Twitter
.
In its appeals breakdown, the Red Cross is asking for $2,036,967 USD ($2,708,931 CAD) to fund its Guatemalan relief efforts. To date the
organization
has received $542,176 USD ($721031 CAD). The Red Cross efforts in Guatemala will be going towards ambulance care to support three hospitals, medical and prehospital care in shelters and evacuation zones, organization collection centres and blood donations, restoring family links and supporting rescue and evacuation services.
Watch the "Guatemala" video:
Supreme