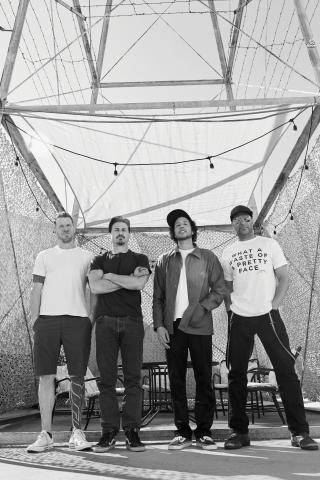 Politically-charged Los Angeles rap-metal band Rage Against The Machine has raised over $3 million USD for their upcoming seven-month reunion tour, but not without controversy, and guitarist Tom Morello has been responding to questions and comments on social media — with patience that sometimes wanes.
"Does @RATM claim the tax credit for the charity tickets, or are tax receipts being issued back to us paying for the tickets?" asked one Feb. 20 Twitter user. "This is a "Charity" ticket Tom??" asked another posting a screenshot of a listed ticket clearly marked "charity ticket."
Although the band incorporated a charity ticket pricing model that covers 10 percent of reserved seating at all venues around the world, speculative pricing advertised by scalpers and surge pricing has caused confusion among fans, who have criticized RATM for charging overly high prices and forced them to be on the defensive.
"The MOST expensive ticket for ANY Rage Against The Machine/Run the Jewels headline show is $125 US (plus service fees) with the exception of CHARITY tickets where 100% of the additional proceeds go to charity. ANY other ticket at ANY other price is from SCALPERS," Morello stated on Twitter, regarding their 48-date "Public Service Announcement" tour, which begins March 26 in El Paso, Texas and concludes in Vienna, Austria on Sept. 12. 
Morello has continuously answered fans questions and gripes on his Twitter page, clearly explaining the charity tactic. "It clearly says 'charity ticket.' I weep for the future," he states at one point.
In a separate statement on their website, Rage Against the Machine  — consisting of singer Zack de la Rocha, bass player Tim Commerford,  drummer Brad Wilk  and Morello — said that many of the proceeds raised on the tour will be earmarked for local charities.
To begin with,  the profits from the first three dates of the tour — March 26 at the Don Haskins Center in El Paso, Texas; March 28 at the Pan American Center in Las Cruces, New Mexico and March 30 at Gila River Arena in Glendale, Arizona -— are earmarked for "immigrant rights organizations."
The band is also holding 10 percent of random, reserved seating in each venue to "sell at a higher ticket price (but low enough to undercut the scalpers)" with a pledge to donate 100 percent of the money  "over the base ticket price and fees" to charities and activist organizations "in each city."
Morello tweeted that RATM has already raised more than $3 million for charity and successfully blocked "

So far we stopped approx 85% of the scalping market but I agree that ANY scalping is horrible and we will continue to combat it. https://t.co/OZ6KrP7pxw

— Tom Morello (@tmorello) February 14, 2020 " target="_blank">85% of scalpers trying to buy tickets."
As for the list of charities and activist organizations that will benefit from RATM's largesse, Morello announced in a Feb. 15 tweet that their names will be released "when we have final numbers."
Rage Against The Machine last performed in 2011. The band will be releasing a new album, RATJ4, later this spring.
adidas Yeezy Boost 350 V2 News, Colorways, Releases