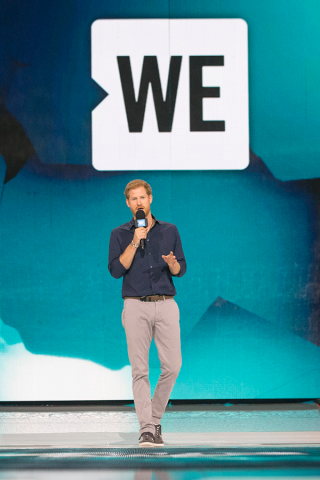 Prince Harry's appearance was met with screams and cheers at We Day today (Sept. 28). His Royal Highness Prince Henry of Wales, 33, is in Toronto for the Invictus Games (Sept. 23-30), which he created in 2014 as a paralympic-style international sporting competition to inspire recovery and rehabilitation among wounded, ill and injured veterans and military personnel.
When he appeared on the stage at Air Canada Centre in front of thousands of youth — who had been specially selected to be there by their respective schools because of their charity work — they all rose to their feet and got out their camera phones.
We Day is the designated gathering of the charitable youth movement We Charity, formerly known as Free The Children. This year, more than 200,000 young people will come together in 14 cities across North America and the UK to take part in this moving day of inspirational speakers and performers.
Here is the Prince's message to them (verbatim):
"I'm here in Toronto supporting the Invictus games.
"This year there are 550 competitors from 17 countries taking part.  They are proving to the world that great challenges can be confronted with resilience, and determination when you live by the values of service, duty, and respect. 
"They are proving that we are stronger when we work together. We are happier when we work in the service of others.  We succeed when we have purpose in our lives. " to screams.
"In today's world, too many people feel cynical and apathetic. I get that the challenges we face sometimes seem complex and even scary, especially when we don't know who to turn to for answers. 
"I know that while this generation of young people wants to make our world a better place, you often struggle to get your voices heard.  I know that you, more than any previous generation, care deeply about the health and sustainability of the planet you're going to inherit," he said to cheers and claps.
"I see that you're frustrated, that entrenched mindsets are not keeping pace with the urgency of the threats to our environment. 
"But today, you are all saying no to pessimism and cynicism.  Here in Toronto, with both WeDay and the Invictus games, we are saying yes to optimism, yes to hope, and yes to belief." Cheers again.
"We are putting service and giving back at the heart of everything we do. 
"The thousands of you gathered here are proof that today's generation of young people is the most connected, most energized, and most confident the planet has ever known." More cheers.
"You know the differences of opinion, of circumstance, of race and religion are to respected and celebrated. 
"You know that in a clickbait culture, we cannot waste time sharing and drawing attention to things that make us angry or that we know to be false." More claps and cheers.
"You all know that it's great to like things on social media, but that it's more important to look up from our phones, to get out into our communities, and to take real action, to stand up for what you believe in." Cheers, screams, claps.
"So before I close, I want to make a deal with you.  The hundreds of service men and women that have gathered here for the Invictus games, they share your enthusiasm for service and duty.  I want you to listen to their stories.  If you see them around town, introduce yourselves, make some new friends, hear what they and their families have been through, hear how they have overcome incredible challenges and let yourselves be inspired." Cheers, claps and screams.
"If you do that, I promise you, that I will work to do everything that I can to support you, to create a platform where your voices can be heard, and your ideas taken seriously." More cheers.
"Sadly, sadly, I am now part of a slightly older generation," he laughs, "but in the years to come, I want to work with you to help encourage, identify, and support the new generation of leadership, both local and verbal leaders.
"Today, at We Day, you're not surrounded by negativity. You're not fighting on your own. You are working together. You are supporting each other, and together, you are going to change the world. Thank you."
adidas Yeezy Boost 350 V2 News, Colorways, Releases