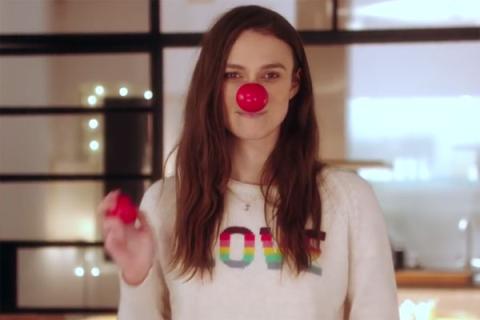 If it seems like an unusual amount of red clown noses are on your television on May 25 there's a good reason — that's the date for the third annual Red Nose Day USA, a star-studded multimedia charitable event designed to fight child poverty.
Started in 1985 in Britain by the Comic Relief organization, Red Nose Day features actors, musicians, athletes and related celebrities donning signature red rubber noses to support the cause, with the annual U.K. event each March becoming must-see television. This year's American event, the third annual in the U.S., will come together around a three-hour block of evening television on NBC starting at 8 p.m.
To start, the physical obstacle course challenge show American Ninja Warriors will get rebranded as Celebrity Ninja Warrior for Red Nose Day and will feature the likes of Stephen Amell (Arrow), Erika Christensen (Parenthood), Jeff Dye (Better Late Than Never), two-time Olympic gold medalist Ashton Eaton, Nikki Glaser (Not Safe with Nikki Glaser),  Derek Hough (World of Dance), Natalie Morales (TODAY and Access Hollywood) former New York Yankees outfielder Nick Swisher (Spartan Ultimate Team Challenge) and Mena Suvari (American Woman) trying to navigate the show's demanding obstructions.
Next, at 9 p.m., television adventurer Bear Grylls will be joined by actress Julia Roberts for a special episode of Running Wild With Bear Grylls where the pair will travel through the country of Kenya where they'll be tasked with delivering potentially life-saving vaccines to a hospital in a real-life race against the clock.
The final piece of marquee programming for the day will be The Red Nose Day Special, which takes place at 10 pm. Hosted by Chris Hardwick, one of the main attractions for the special will be the exclusive "Red Nose Day Actually," a short film reuniting the cast of the film Love Actually.
Money raised from Red Nose Day USA will be used to support programs that "ensure children in need are safe, healthy and educated, both in the United States and in some of the poorest communities around the world." Some of the organizations that will receive money included Boys & Girls Clubs of America, Charity Water, Children's Health Fund, Feeding America, Gavi, National Council of La Raza, Save The Children and The Global Fund.
Organizers estimate that over four million Americans have contributed to Red Nose Day USA in its first two years, raising an estimated $60 million USD ($81,024,300 CDN). This year the Bill & Melinda Gates Foundation announced they'll match any donation made between now and June 15 up to a total of $1 million USD ($1.35 million CAD). Additionally, retail outlets Walgreens and Duane Reade will be selling iconic red noses with the proceeds going towards Red Nose Day causes.
If wearing a red clown nose seems a little uncool, there are a number of high profile celebrities who'd disagree with that statement. In a preview video titled "Pass It On," the likes of Liam Neeson, Bill Gates, Julia Roberts, Ben Affleck, Keira Knightley, Ed Sheeran and Mr. Bean can all be seen putting on the signature red nose in preparation for May 25.
Watch the Red Nose Day USA "Pass It On" video
Nike Releases, Launch Links & Raffles