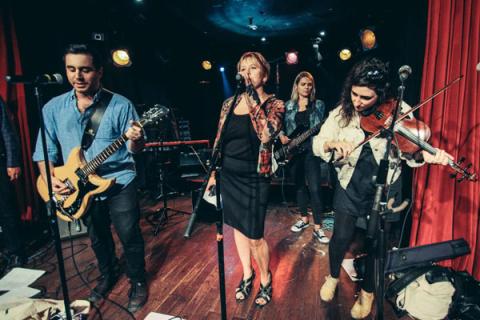 There'll be another $20,000 put towards Unison Benevolent Fund's good work thanks to the music-minded employees at Re:Sound as well as their industry friends.
The money's the result of Re:Sound's recent "Re:Wind — Pop Through the Decades" event, which took place at Toronto's Revival nightclub Sept. 22, and featured bands made up of employees from Re:Sound, a not-for-profit music licensing company, as well as staff bands from SOCAN, Music Canada and CMRRA (Canadian Musical Rights Reproduction Agency).
The Unison Benevolent Fund is a non-profit, registered charity that provides counselling and emergency relief services to the Canadian music community in areas such as mental health support, managing relationships and family life, finding child and elder care resources, legal advice, financial guidance, workplace challenges, tackling addictions, improving nutrition and health improvement. The fund was created in 2010 by Canadian music industry veterans Jodie Ferneyhough and Catharine Saxberg.
"Every day I'm proud of the team at Re:Sound.  But today, I'm even prouder than ever" said Ian MacKay, president of Re:Sound, in a release. "This annual event is entirely organized by a dedicated group of Re:Sound employees whose passion and talent is truly inspiring."
This is the fourth annual Re:Sound charity event and Unison staff appreciated the support.
"Re:Sound dreamt up a truly fantastic event to bring the music community together and celebrate all of the amazing individuals who make it great" added Catharine Saxberg, Chair of the Unison Benevolent Fund Board. "We were honoured and delighted to be involved, and to cheer on our friends during their well-deserved moments in the spotlight."
This isn't the only recent event that helped support Unison's vision. The organization also recently teamed up with the Polaris Music Prize at the award event's Polaris Gala in September and was also the beneficiary at a couple high-profile events in the summer that raised $75,000.
Air Jordan 1