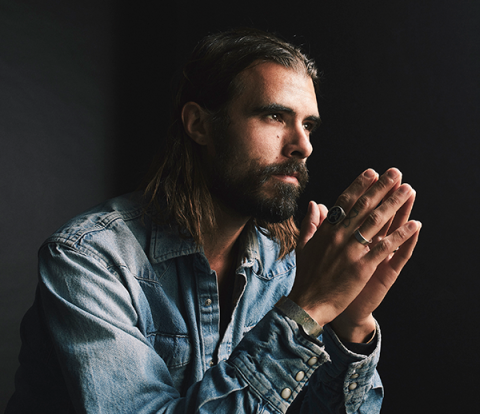 Moved by the response of the audience when his band covered The Tragically Hip's "Bobcaygeon" live, frontman Reuben Bullock of Alberta's Reuben and the Dark have recorded the song with all proceeds going to the Gord Downie & Chanie Wenjack Fund, which the late Gord Downie created a year before his death to encourage reconciliation.
"The first time we played 'Bobcaygeon' in front of a crowd, I knew we needed to get into a studio and record it," Bullock said in a press release. "Feeling how widely Gord's spirit resonates, I wanted to release my version for the Gord Downie & Chanie Wenjack Fund as my way of using our voice to support and engage with Gord's vision of reconciliation."
The song is for sale on various services, including iTunes, Amazon and Google Play, as well as the Arts & Crafts web site for one dollar.
He later added "the Downie Wenjack Fund is important because of its focus on youth, its active education on indigenous history, and the creation of connections with this land's rich indigenous culture. I am compelled to be a part of this action, to be both a listener and a participant in these conversations, a student of these issues and a proponent of progress."
Formed in 2012, Reuben and the Dark hail from Calgary, coming together after Bullock released two albums as a solo artist. The band's first album was Funeral Sky, released in 2014 through Arts & Crafts, and was produced by Christopher Hayden of Florence and the Machine and Stephen Kozmeniuk. A second album, Arms of a Dream, was released earlier this year, also on Arts & Crafts, and features the single "Dreaming."
Besides Bullock, Shea Alain (guitar/keys), Brock Geiger (guitar/keys), Ian Jarvis (bass), and "Pico Pollo" Dino Soares (drums). 
Before his death in October of 2017, Downie helped form The Gord Downie & Chanie Wenjack Fund (DWF) a few years after learning of Wenjack's story. In 1963, at age nine, Chanie was sent to a residential school 600 kilometres from his home to Kenora. The day he arrived, he and nine other children ran away - all but Chanie were brought back. Chanie died from exposure and starvation. His body was found beside railroad tracks a week later, still hundreds of kilometres from home.
Downie wanted to use his drawing power as a famous musician, and the power of his poetry as one of Canada's foremost songwriters and lyricists, to help. The Downie-Wenjack Fund is one manifestation of that impact and one of Downie's most enduring legacies.
According to the Fund's website, it is led by Indigenous people and headquartered on Indigenous land. It is governed by a board of directors that includes both Indigenous and non-Indigenous people, including Harriet Visitor, Chanie's niece, noted First Nations singer/songwriter/activist Buffy Sainte-Marie, and Gord Downie's brother Mike.
(Please support Samaritanmag's original journalism by making a PayPal contribution to info@samaritanmag.com so we can increase the amount of content and writers we hire. Samaritanmag is the anti-tabloid, covering good people trying to change bad things)
Sneakers